Terry Butcher exit gives Hibs clean slate, says Ben Williams
Last updated on .From the section Football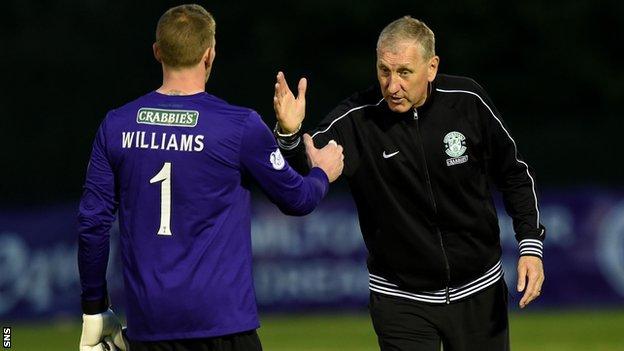 Former Hibernian goalkeeper Ben Williams believes the decision to sack manager Terry Butcher offers the club a fresh start.
Williams, 31, left Hibs after their relegation to the Championship and now Butcher is also looking for a new club.
And, asked if he agreed with Butcher's dismissal, Williams replied: "I do.
"I sound like I'm giving Terry Butcher a bashing here and I don't mean to come across that way, but I'd say that it's a clean start."
With the Easter Road side now facing up to life in Scotland's second tier, Williams believes the new boss will have to get the best out of "some fantastic young players" if they are to return to the top flight.
And the keeper also expressed surprise of the timing of 55-year-old Butcher's departure.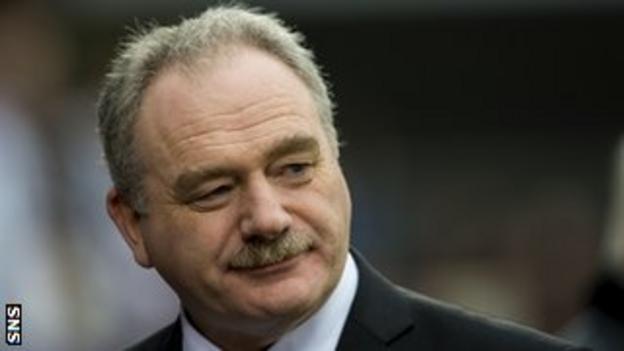 "It's taken a couple of weeks since the lads left and the season ended for him to lose his job, but I suppose it ties in with the new chief executive [Leeann Dempster] coming in and obviously she's made the decision.
"There's going to be widespread change, a fresh start and a clean slate for next season.
"They'll be a lot of people who have opinions on what went wrong and what could have been done and I'm sure if it was the simple fact of changing one or two things, it would have been done, as no-one wants to go through this.
"If we could have avoided it, we would have done."
Williams insists the players gave their all for Butcher following his appointment in November and that lack of confidence was the catalyst for Hibs's slide down the table.
"Once people recognised how we wanted to play, they just sat back, we couldn't get behind them, we couldn't break them down and we couldn't score goals," explained Williams.
"We made life very difficult for ourselves and in the end you can see we were just sort of playing long balls in behind teams and it wasn't working.
"Terry has an authoritarian type of doing things, it's difficult when he comes in and turns round to say to experienced players 'you won't figure in my plans'. It is then difficult to turn round to those players and say, 'I need to get something from you because my plan A isn't working'.
"There's not one player in that dressing room that doesn't give their all, you can't afford to.
"They give their all, but I think it boils down to confidence, I think if someone tells you enough times that you either can't do the job, or for example that you can't play at home in front of the home crowd, people start to take note of it - particularly the young boys."
As well as Butcher, chairman Rod Petrie came in for fierce criticism from fans and former Hibs player Paul Kane is leading a campaign to force Petrie out.
But Williams added: "He [Petrie] really has got the long-term benefit of Hibernian Football Club in mind, he really has. He doesn't want the club to fall into any financial difficulties but it's finding a fine balance that and dealing with the here and now and investing in the team in the right way."