World Cup 2014: England set for Italy in Group D opener
Last updated on .From the section 2014 Fifa World Cup
England begin their World Cup campaign on Saturday when they take on four-time winners Italy.
The two sides will meet in the city of Manaus in north-west Brazil, where the heat is expected to exceed 30C.
At least 3,000 fans have made the 5,500-mile trip to follow Roy Hodgson's side, who are in Group D and will also play Uruguay on 19 June and Costa Rica five days later.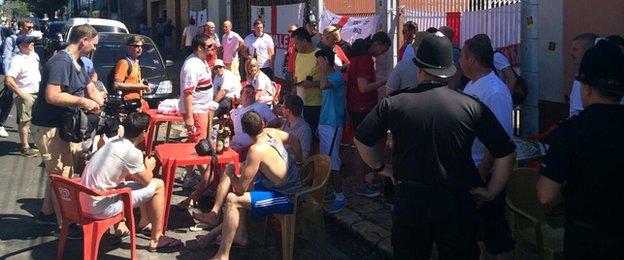 "We want support from back home and for people to believe," said Hodgson.
"If it doesn't go that well for us, it's not for any other reasons than it didn't happen for us on the night."
Prime Minister David Cameron has sent a good luck message to the England team.
"It's a tough draw - some say it couldn't be tougher - but we are right behind you every step of the way. Go for it," he said in a video message for FATV.
The stifling heat and humidity is likely to pose the biggest problem for England and the 1966 World Cup winners prepared for the conditions with two games against South American opposition in Miami.
After beating Peru 3-0 at Wembley in their first warm-up game on 30 May, they flew to America, where they drew 2-2 with Ecuador before playing out a goalless draw with Honduras last Saturday.
That game was disrupted by an electrical storm, which resulted in a 30-minute suspension of play in the first half.
Hodgson's side travelled to Rio de Janeiro - their base for the duration of their stay at the World Cup - on Sunday, training there before flying to Manaus on Thursday.
Supporters also started arriving in Manaus earlier this week, experiencing the tricky conditions that await England first hand.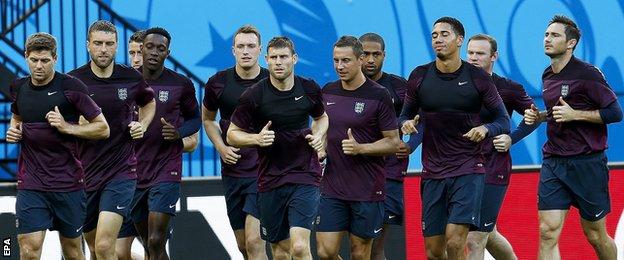 Jeff James, who travelled from The Potteries and said: "It will be great to watch England play in the World Cup but what a chance to see the Amazon and experience something like this.
"It is not so much the heat that surprises you, it is the fact that it is so oppressive. You feel it right away, but it is going to be a wonderful experience."
Another England fan, Peter Edwards from London, added: "It is a combination of things. You want to sample football in Brazil, where there is such a passion, but to see England play in surroundings like this is a once-in-a-lifetime thing.
"It is sometimes uncomfortable just standing around, but to play for 90 minutes in it shows you how fit these guys are and how much you have to respect them."
They will play Italy at the 42,374-capacity Arena Amazonia, where there had been some concerns over the state of the pitch, which had visibly dry brown patches earlier this week, but it has been passed fit for use.
Hodgson has taken a young squad to Brazil, with just six of the 23 players having played in previous World Cups.
Italy, meanwhile, will likely rely on experience, with Andrea Pirlo earmarked as their main threat against England.
The 35-year-old Juventus midfielder was England's tormentor at Euro 2012, when Italy won 4-2 on penalties in the quarter-finals.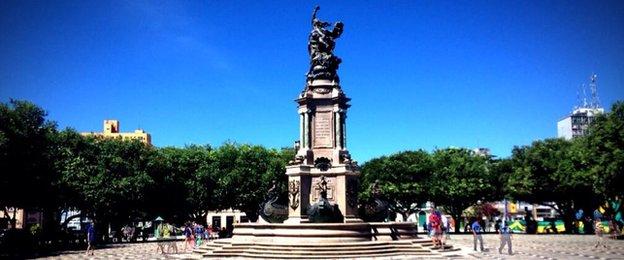 "We can win the World Cup," said Pirlo. "I always play to win and I won't be satisfied by just getting out of the group stage or into the quarter-finals."
Saturday's game will be broadcast live on BBC One, while there will be BBC Radio 5 live commentary. Both the TV and radio coverage will streamed online alongside our live text coverage.
England, who were beaten 4-1 by Germany in the last 16 of the 2010 World Cup, are looking to progress beyond the group stage for the fifth successive World Cup.
Hosts Brazil, who won their opening game against Croatia 3-1 on Thursday, are favourites, while holders Spain are aiming to win a fourth major tournament in a row after winning the European Championships two years ago.
See all of the World Cup fixtures here.
For the best of BBC Sport's in-depth content and analysis, go to our features and video page.