Champions League: Man City home-grown quota cut by Uefa
Last updated on .From the section Man City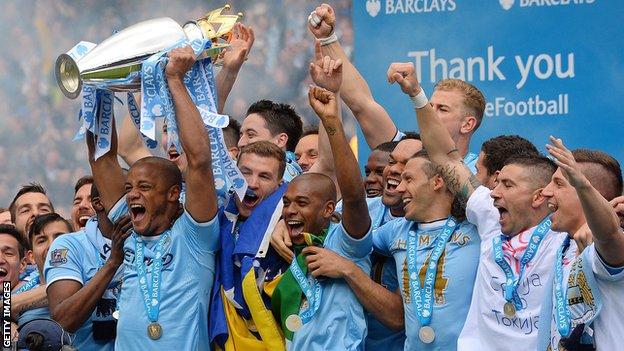 Manchester City will be required to name only five home-grown players in a reduced 21-man squad for next season's Champions League.
The club had been due to name eight home-grown players but Uefa has bowed to pressure from players' union FIFPro.
Uefa said it was "appropriate" to reduce the number of home-grown players present in the smaller squad.
Gianni Infantino, Uefa's general secretary, said: "It came after a request from the players union FIFPro saying when you take these kind of sanctions and measures you cannot harm the players - and the rights of a player who has a contract - for the behaviour of the clubs.
"So we looked at it and it was felt appropriate there for the number to be proportionally reduced as well."
In addition to the squad restrictions, City were fined £49m - £32m of which is suspended - after being named as one of nine clubs to fall foul of Uefa's financial fair play rules.
The Premier League champions can spend just £49m on players this summer, plus any money the receive in transfer fees. City's wage bill for 2014-15 must stay the same as last season.
During last season's Champions League campaign, City registered 23 players because of the eight home-grown players rule, using 21.
The reduction in the home-grown players limit means City should be able to cope with the expected departure of Joleon Lescott, with Micah Richards and James Milner also being linked with a move.
England goalkeeper Joe Hart, midfielder Jack Rodwell, left-back Gael Clichy and defender Dedryck Boyata were also named as home-grown players in last season's Champions League squad.
UEFA defines home-grown players as those who, regardless of their nationality, have been trained by their club - or by another club in the same national association - for at least three years between the age of 15 and 21. Half of those players must have had that training with their current club.