Europa League play-off proposed for Irish League
Last updated on .From the section Football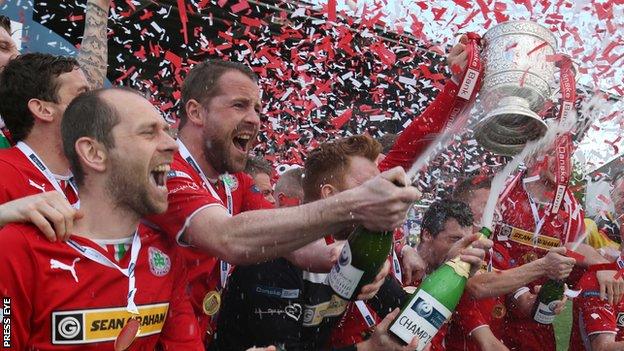 New proposals for the Irish League include an end-of-season play-off for a place in the Europa League.
Teams placed from third to seventh in the Premiership would take part in the play-off, which would include a quarter-final, semi-finals and final.
The play-off would come in from the 2015/16 season while summer football is not being considered at present.
The proposals also include the option of Thursday games and clubs having a limited number of players aged over 21.
The restructuring plans from the Northern Ireland Football League, following consultation with stakeholders including clubs and fans, will be put before the Irish FA AGM.
Championship One clubs would be required to have the necessary licence, from the 2016/17 season, to be promoted to the Premiership.
Championship Two would be reduced from 16 to 14 teams in the 2015/16 season.
Uefa official Tom Gorissen carried out the consultation and his findings suggest that there should be greater flexibility of kick-off times in the Premiership.
The NIFL hope to bring in a "weekend of football" with games between Thursday at 19:45 BST and 17:00 on Saturday.