World Cup 2014: Mixed World Cup emotions in Brazil
By Ben Smith
BBC Sport in Rio de Janeiro
Last updated on .From the section 2014 Fifa World Cup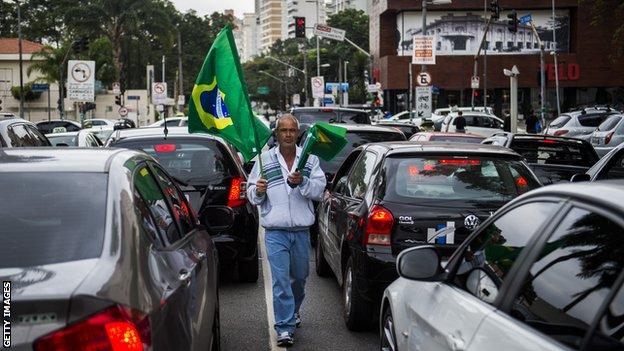 Stop all the clocks, cut off the telephones. Prevent the dogs from basking in the Rio sun. Silence the pandeiro and with samba drum, bring on Croatia, let the World Cup come.
With apologies to W. H. Auden, the procession towards the start of this World Cup has not resembled the feel-good fiesta many around the world had expected.
There are those for whom this tournament is still their north, their south, their east and west, their working week, their Sunday rest. There are plenty of others here, though, for whom the start of this World Cup brings with it all the joy of a funeral.
In the sprawling city of Rio de Janeiro, very few cars are flying Brazilian flags. Walls and streets should have been decorated with green-and-yellow bunting by now, but few are. In the past, artists painted murals recalling the great triumphs and demanding new ones. Not this time. Brazil is unsure how it should feel, unsure if an outpouring of patriotism will attract the unwanted attention of protest groups.
When you speak to the locals, their emotions are conflicted. Some feel anger at the estimated £7bn that has been spent on the tournament, while hospitals, schools, public transport and the job market go without, leaving people fearing for the future.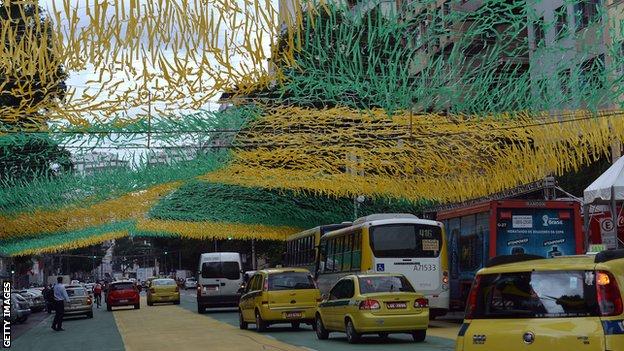 On Tuesday night, Brazil's president took to the prime-time airwaves to deliver a speech intended to rally the nation behind the World Cup. That she felt she had to at all tells a story. "Beneath those green and canary shirts, you embody a powerful legacy of the Brazilian people," said President Dilma Rousseff. "The national team represents nationality. It is above governments, parties and interests of any group."
Miguel Goncalves, a shop owner in the Rio neighbourhood of Flamengo, has chosen to follow tradition and decorate the street on which he lives. "When I was putting up the flags, someone stopped me and asked 'so you are supporting the politicians? You are supporting Fifa?' I said, 'no, I am supporting my country, I am supporting the Selecao. This is football, not politics.' People are mixing these up."
"There is a real conflict," said Arlei Damo, a professor of anthropology at University of Rio Grande do Sul. "The usual love affair with the Selecao has been undermined by many things - the protests, the realisation that few Brazilians can't afford to watch them as they wanted to. The emotions aren't flowing as they typically would."
A survey published by the Brazilian newspaper O Globo said 55% were against or indifferent to the World Cup. But the country's footballers have the power to unite.
A comic strip here sums that up. In it, a Brazilian mother asks her husband where their son has gone in the week before the World Cup. "He skipped class to protest," says the Dad. She asks again on 12 July. "He skipped class to watch Brazil play."
In Sao Paulo on Wednesday, there were signs that Brazil was starting to wake up to the reality of what is upon them. The team coach was escorted through the streets of this vast city on its journey to the Estadio Itaquerao. Police outriders sped ahead clearing a path through the endless traffic and helicopter gunships flew overhead.
Far more striking, however, were the thousands and thousands lining the streets. Some hung off bridges that arch over the 12-lane highways. Others waited on hills close to the road. One couple carried a baby each in their arms, both of the children wearing Brazil-themed headbands with flags attached. This was a show of pride.
When Brazil arrived at the stadium, thousands more were waiting for them, held back by police lines, all decked out in yellow and green. No protests were seen.
In the Tatuape district of Sao Paulo, 10 miles from the stadium, the locals spent the day stringing flags across their streets and wrapping yellow, green and blue around the lamp posts. On Avenue Conde Frontin, a youngster was finishing a work of graffiti on the wall. His slogan read 'com raça Brazil' - run with Brazil. In other areas, washing lines were hung between cars, Brazil shirts draped over them.

Luis Felipe Scolari held court in the bowels of Estadio Itaquerao on Wednesday. Some 400 journalists crammed into the room, 300 more were left outside. The Brazil coach began the press conference with a statement. "The time has arrived," he said. "We are going together. This is our World Cup." The 'we' he referred to, was Brazil, all of it.
"I want to thank the people for the thousands and thousands of letters we have had, supporting us, inspiring us. When we arrived at the airport, when we arrived here and saw the support, it lifted us. We go on together, we go on together," he added.
Neymar touched on it too. "The fans, our country, are our 12th man - the most important person on our team. If all of Brazil is behind us, we will be hard to beat."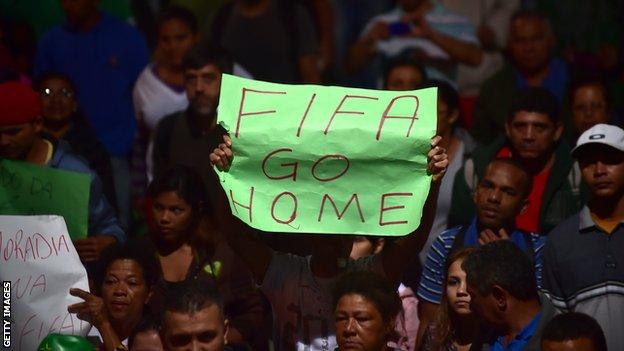 The mood in Brazil cannot be summed up by one sweeping statement. These are complicated issues, this is a complicated country. The protests will continue, but what is becoming clear is that the Brazilian football team still possesses real power.
The power to influence, the power to unite a population that is increasingly divided.
Brazil will stop to watch, to wonder, to protest on Thursday. A national holiday has been declared in Sao Paulo and many more of Brazil's biggest cities. Schools will close for the day, as they will for each of Brazil's World Cup games. Banks will shut, court proceedings will halt. This is no ordinary match, no ordinary World Cup.
Nelio Da Sliva sells coconuts on Copacabana Beach in Rio. He is 62 and wears torn linen shorts, a faded white shirt, bearing a logo of Cristo Redentor (Christ the Redeemer) and a flamboyant straw hat that has seen better days. "There were times when I thought this World Cup was the worst thing that could ever have happened to my county," he says, with a smile. "I felt it was damaging our reputation around the world and of course costing us too much money, at a time when our country needs other things.
"But now it is here, I feel very differently. I feel pride, I feel hope, I feel like we have a chance to show the world what Brazil stands for. And what is a World Cup if it is not there to win? We must forget the dark moments now, we must think only about the chance we have to see the Selecao win the World Cup in our very own country. Win for our people, win for our pride. It is all I can think about about, all I can see."
Brazil will take to the field in Sao Paulo on Thursday in front of a global audience of one billion people. The greatest pressure of all, however, may come from the burden that the country is placing on their shoulders. Win and the country may start to come together behind them. Lose, and protests may pick up momentum, apathy may gather pace.
This is Brazil's moment.