World Cup 2014: Fifa official urges racism sanctions for teams

By Richard Conway
BBC Radio 5 live sports news correspondent
Last updated on .From the section 2014 Fifa World Cup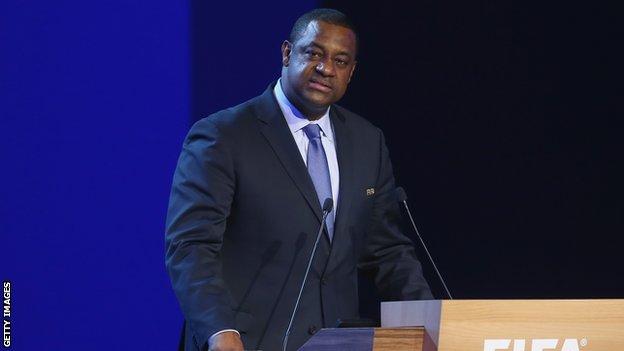 Teams should be kicked out of the World Cup if their fans or players commit racist offences, the head of Fifa's anti-discrimination taskforce has said.
Asked if teams or individuals could be banned, Webb said: "They have to. The NBA set a new standard and I applaud them. They made a swift and concise decision - we need to do the same."
Clippers chief Sterling was banned from basketball for life, and fined a maximum $2.5m (£1.5m), after a recording emerged of him asking a woman not to associate in public with black people nor bring them to games.
He later said the recording "does not reflect his views".
"We must have a zero tolerance," said Webb.
"I'm clearly hoping that Fifa is going to make a stand and our disciplinary bodies and individuals are going to make the tough decisions and stop talking and start taking action."
Webb also believes not enough is being done at a national and regional level following the adoption of tough new rules by Fifa over racism and anti-discrimination in 2013.
"We've got to get the national associations and confederations around the world to start implementing [harsher penalties].
"They really haven't started implementing them. The level of fines we still continue to see are not really going to have an impact."
Earlier this week Fifa president Sepp Blatter told African football officials that the allegations surrounding corruption over Qatar's winning bid to stage the 2022 World Cup were motivated by racism and discrimination.
But Webb moved to distance himself from those comments, saying: "I don't share that view at all. Obviously events have transpired in Fifa over recent years and the congress has in the past two years implemented various reforms.
"We've created processes to put in place with the ethics committee. There's a full investigation. Allow them to do their work and allow those processes to take place and the chips fall wherever they may.
"The credibility of the game is very important. It's paramount. And we cannot afford to lose the credibility or integrity of Fifa, whatever it takes to restore that and to turn that around."