Michel Platini withdraws Sepp Blatter Fifa presidency support
Last updated on .From the section 2014 Fifa World Cup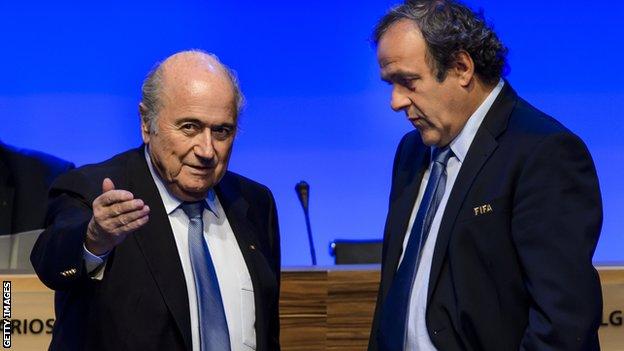 Uefa president Michel Platini say he will not support his Fifa counterpart Sepp Blatter at next year's election.
Blatter, 78, who has been under pressure over the 2022 Qatar World Cup, recently indicated he was to seek re-election for a fifth term.
"I do not support him, I am not in favour of him having a new term," said Platini, 58. "I told him. I think Fifa needs a new breath of fresh air."
Platini is yet to decide whether to contest the Fifa presidency himself.
The Frenchman said he agreed with his fellow Uefa members that it was time for Blatter, who has been in power since 1998, to call it a day when his mandate ends next year.
"I have known him for a long time and I like him but I am not in favour of him having a new term," added Platini. "I supported him in 1998 but I do not support him in 2014. And in the future I will not support Mr Blatter."
Platini, who won great praise in 1998 for his organisation of the World Cup hosted by France, indicated that he and his members had not been happy with the Fifa Congress in Sao Paulo on Wednesday.
Several of Platini's colleagues confronted Blatter following his claims the British media's motivation in investigating the Qatar bid were "racist". Uefa members said the claims were without foundation.
Football Association chairman Greg Dyke called those claims "totally unacceptable" and has also urged the Swiss to step down next year.
The Fifa leader was helped in his bid for re-election by a congress vote not to consider age and term-limits for officials.
Platini still would not commit himself to a run for the Fifa presidency and at present there is just one candidate - former Fifa deputy secretary-general Jerome Champagne.
"It is an option to run," said Platini. "But it is not because Sepp Blatter is running that Michel Platini will not run and it is not because Blatter is not running that Platini will run.
"My only concern is knowing what I want to do. I am 60 soon and I need to know what I want. I will take my time."