Sami Hyypia: Brighton & Hove Albion boss calm on coaching staff
Last updated on .From the section Football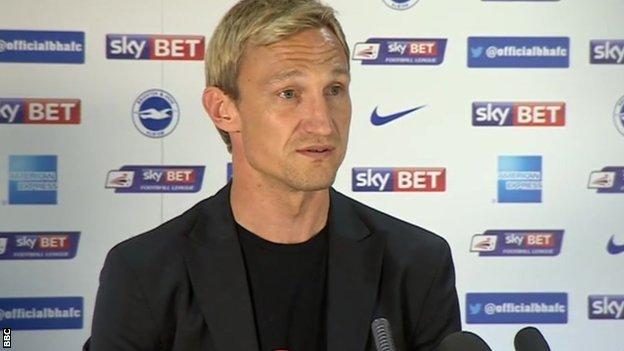 New Brighton manager Sami Hyypia says he will bide his time as he considers who to add to his backroom staff.
"My first priority is to get a squad together so that we have a chance to be successful in the Championship," Hyypia, 40, told BBC Sussex.
"I am not in a hurry. I need to think which people are good for the staff and then we will make our decisions."
He added: "In Germany it is a little bit of a different set-up in clubs and I don't really have a backroom staff of my own."
Former Brighton defender Nathan Jones is the sole senior member of coaching staff left at the Amex Stadium following the resignation of head coach Oscar Garcia last month.
The 41-year-old was assistant coach to Garcia but will revert to first-team coach under Hyypia, who won over 100 international caps for Finland during his playing days.
"Nathan Jones I have met already and I have spoken on the phone with him," said Hyypia.
"I liked what he said. He is very professional, his knowledge of football is good and he is willing to work hard for the cause. We will need a few other people.
"I have heard there are a lot of good coaches at the club already who will help us in the first few weeks when needed. I am not too worried."
Hyypia had a distinguished playing career in England, winning the FA Cup, League Cup, Uefa Cup and Champions League during a decade at Anfield.
He retired in 2011 at the age of 37 following a two-year spell at Bayer Leverkusen.
Brighton is the Finn's first managerial role in England. He was in joint charge at Leverkusen in 2012-13 alongside Sascha Lewandowski, before taking sole charge of the German Bundesliga side last season.
However, Hyypia was sacked by Leverkusen in April following a run of one win in 12 matches.
The Seagulls were known for a possession-based game under Garcia and the Spaniard's predecessor Gus Poyet, who is now in charge of Premier League side Sunderland - and Hyypia is keen to improve on that style of play.
"As a defender I like that a team defends well and does not conceded too many goals," he said.
"Of course, the attacking play is also important as without goals you can't win.
"Quick transition is one of the points I saw from the games I watched that this team could do better.
"Possession in general is only a number for me. What you do with possession is more important for me.
"We have to work very hard for the next six weeks to try to score a goal with possession, not only keep the ball."