World Cup 2015: Sweden coach praises Scotland's Anna Signeul
By Cheri Burns
BBC Scotland
Last updated on .From the section Football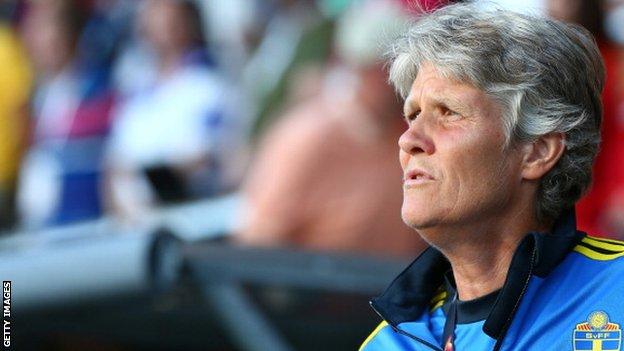 Anna Signeul has transformed Scotland's women and taken the national side to another level, according to her Swedish compatriot Pia Sundhage.
The Scots host Sundhage's Sweden in a crucial World Cup qualifier at Fir Park on Saturday, with both sides boasting a 100% record in their group.
And she has been impressed by how Signeul has guided her charges to their highest-ever world ranking of 19.
"I'm really proud of what Anna has done," Sundhage told BBC Scotland.
"If you look at the way Scotland played before she came and then the job she has been doing, she has been working really hard to make them play good football.
"She loves the sport and is a smart woman. It's special that we'll get the chance to play against each other and to do our very best, but I do hope she loses and we win."
And, so strong is the admiration Sundhage holds for the 53-year-old, she believes Signeul would be the "perfect" successor to her, as and when she relinquishes her current role.
Going into the weekend's encounter, Scotland sit top of Group 4 - three points ahead of the Swedes - and although Sundhage's favourites do have what could prove to be a significant game in hand, three points for either side would see them take a major step towards next year's showpiece in Canada.
The stakes could not be higher and confidence in the Sweden camp is not in short supply, following a convincing win against Northern Ireland last time out.
"Watching our team training in the build up to taking on Scotland, and coaching them through their practice, I'm really happy with the way they're performing," added the experienced professional.
"We're looking forward to a game where it's going to be a little bit different, because we'll be playing the team that's top of our table.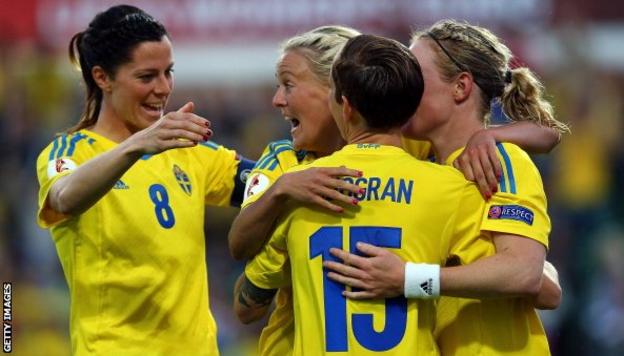 "So far, our campaign's been great. We've had our ups and downs, but I'm pleased. During this training camp, we've had 11 versus 11 matches, talked a little bit about things like crosses, and you can tell that they're really ready."
While Sundhage is adamant her crop have what it takes to get the result they need, the ex-USA women's national team manager - who led the Americans to two Olympic gold medals and a World Cup final - knows all too well the dangers that their opponents present.
"Scotland have been scoring a lot of goals and haven't conceded at home, so it's a challenging situation we're in, but we like that," she said.
"Their squad includes some fast players; players that score goals, and they do have Kim Little. It's key that she's not able to dominate; she's world-class, and we must make sure that we keep track of her.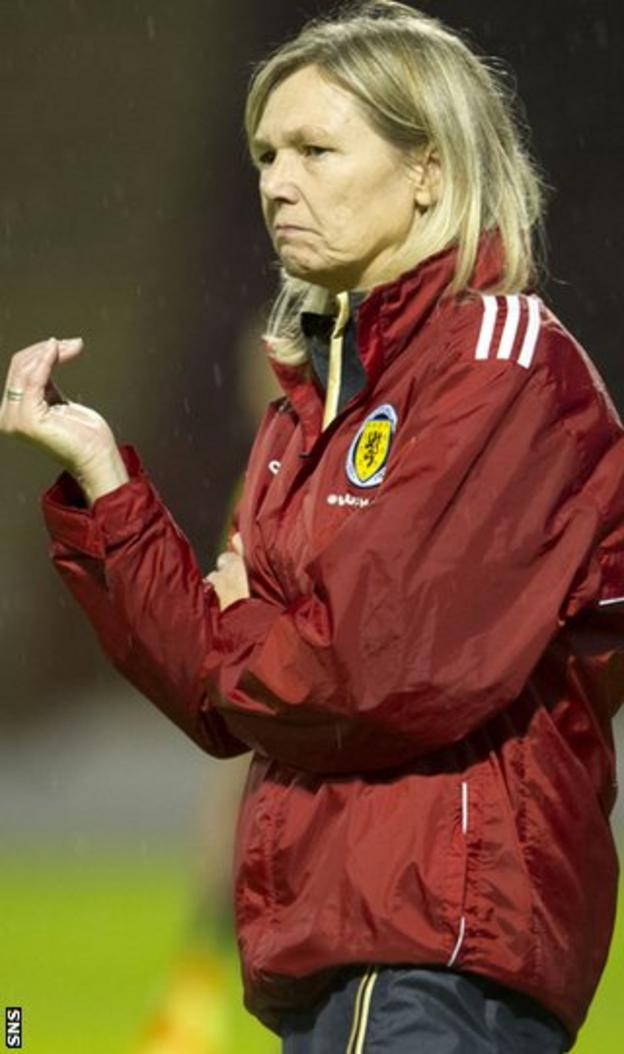 "At the same time, it's important that we play in our style, our own game, and do what we're good at. This is definitely our most important match of the campaign to date, and we had our former national coach scouting for us - we've been watching this team and all of their games. That's been very important. We feel prepared."
Looking beyond her own country and what lies ahead for them, the 54-year-old, who can also include 2012 FIFA Coach of the Year in her impressive list of footballing achievements, believes women's football is developing at a better rate than ever before, which will only continue.
Reflecting on the improvements she has seen during a career in which she has made a seamless transition from top-flight competitor - amassing more than 140 international caps and scoring 71 goals - to a coach who has nurtured talent and steered teams to the very top of the world stage, she explained: "Everything's going to keep getting better and fast.
"It's so interesting to be involved in women's football at the moment because it's so fast and complex. If I was to leave the game just now and come back in five years so much would've happened and changed - I would be lost.
"Things will evolve in a way that the game will become more technical, and if we have players who are more technical then we'll also have the ability to be more tactical.
"We've some really good countries; I'm impressed by some of the African, South American and Asian teams. We must grow and make it even bigger, because if we do then we'll also have a better top tier, and you need that competition.
"It's important to try to take the next step to improve and every day I can see that's happening."