Jess Fishlock column: Wales can qualify for Women's World Cup
Last updated on .From the section Football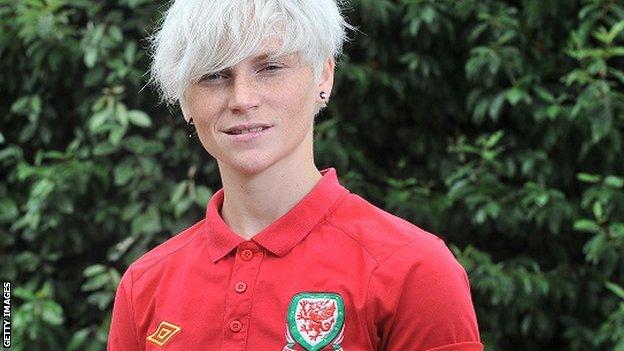 In her latest column for BBC Wales Sport, Wales Women's captain Jess Fishlock reflects on the possibility of 2015 World Cup qualification ahead of their match with Turkey on Saturday, how important a big attendance will be for the national side and how much she is enjoying life playing for US outfit Seattle Reign.
They came and sat back which was new for us and we just had to be patient. So that's what we did and it was a great victory.
It's always nice to get on the score-sheet but for me it's the performance that was more pleasing, we played some great stuff and it was just good to be a part of it.
We're really pushing now, we know that we're in a play-off place. Wherever we finish and wherever we get to, whether it's finishing top or getting a play-off place, the goals matter for the goal difference.
So it's important that we won 4-0. Do I think we can qualify for the World Cup? Yes, I do. We've got a good squad and we're in a good position.
Tough Turkey ahead
We went and played Turkey and I think they were a little bit naive, they're seeded above us so maybe they felt that it was going to be an easier game than it was when we won 5-1.
But I think it's going to be a different game this time, I think they're going to set up to make life really difficult for us... I just hope that we're able to overcome that.
I was there when we won 5-1 and I scored a hat-trick, but I don't think that is the way it will work out this time, that's not the way football tends to play out.
We've got a good squad and everyone's playing well, training's going well and preparations are going good. So I'm quietly, quietly confident that we can get the results that we need.
I hope Haverfordwest is a sell-out
Over the last couple of games we have got more support and we are getting crowds at our games. The backroom staff are really pushing our advertising and our marketing.
We are doing well and people are finding out about it and want to come and watch.
I hope that it's a sell-out... It makes a big difference when you know that you have a crowd behind you, it really does give you an advantage.
We're pre-selling tickets, that's unheard of for us - it just goes to show how far the game has come in Wales.
Sensational Seattle
Things are going really well at Seattle Reign.
We are currently sitting top of the National Women's Soccer League. We're unbeaten in 11 games, winning nine and drawing two.
Things are going really, really well, they probably couldn't be going any better right now because we're eight points clear.
It's unfortunate that we have these breaks in the middle of the season, because we miss a game at Seattle now.
So as much as it is fantastic to come and play for Wales, it's also unfortunate that we end up missing games for Seattle and maybe could end up disrupting the rhythm that we've got right now.
But I'm extremely happy at Seattle and I'm not looking to go elsewhere, it's a club that gives you more than just on the field, they look after you hugely off the field as well.
They make your life in Seattle a great one, it's not just about the football.
Uruguay to win in Rio
I think the men's World Cup will be a good one because you can't really turn around and say there's just one team that's going to run away with it.
I have a cheeky outside bet on Uruguay, I think that they're a great team and I think that they're probably going to break England's hearts.
You can't look past Spain or Germany, or Brazil with this being their home, but I think that Uruguay are going to do well.
I'm not really one of those that can just support random teams if my country is not in it, but I think if I were really going to get behind someone it would be the USA.
I just enjoy what they're doing with their country and I enjoy how they support their country, I feel that I have more of an affiliation with them than I do any other teams that are in there.
So I may be buying myself a USA shirt and sitting and watching that when I'm back in the States.
Jess Fishlock was talking to BBC Wales Sport's Tom Gerken.