Brazil 2014: Netherlands' Michel Vorm's World Cup dream
By Dafydd Pritchard
BBC Wales Sport
Last updated on .From the section Football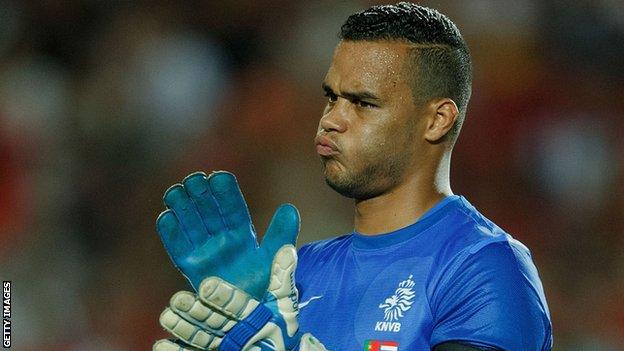 Swansea City goalkeeper Michel Vorm is one of a handful of Wales-based players who are in Brazil for this summer's World Cup, and the Dutchman's excitement is infectious.
Whether he is re-enacting the tempestuous final between the Netherlands and Spain four years ago or recalling his childhood memories of USA 94, Vorm is utterly engrossed by anything World Cup-related.
"I follow so much football and, when the World Cup comes around in the summer, it's always something special," he says.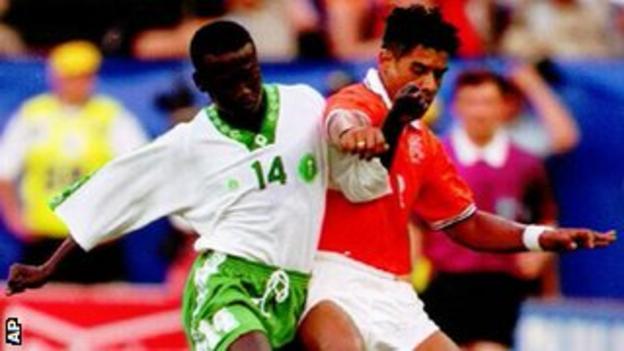 "My World Cup memories start in 1994. I'll never forget my mum taping the Netherlands' game against Saudi Arabia overnight, so I could wake up at 6am and watch the game before going to school.
"At school, everyone would talk about the World Cup and we'd collect the stickers."
A broad grin beams across Vorm's face as he is briefly transported back to the Utrecht playgrounds of his youth, shaking his head to think that some of the stickers he would have collected as a child now bear his face alongside the Dutch crest.
The 30-year-old has 14 caps to his name and has already experienced one World Cup campaign, albeit from the bench during the Netherlands' run to the final in South Africa in 2010, where they lost 1-0 to Spain.
The 2010 World Cup final
It was not a vintage Dutch side - lacking the grace and elan of the Johan Cruyff-inspired 1974 team - but they certainly left their mark on the competition.
Wesley Sneijder and Arjen Robben gave Bert van Marwijk's men an element of class, though forming their rugged core was the pugnacious midfield pairing of Mark van Bommel and Nigel de Jong.
The abiding image of the 2010 final is de Jong's right boot planted into Xabi Alonso's chest, emblematic of a vicious match which produced 14 yellow cards but, remarkably, only one red.
"I felt like a front-row supporter because you support your national team but you're also involved in the squad," Vorm says.
"It's hard to remember many details of the game. It was so intense, it felt like we were standing for the entire 120 minutes. Standing and jumping and shouting at the Spanish bench, shouting at Howard Webb [the referee].
"There was so much going on. When we first went out to warm up on the pitch, we couldn't because Shakira was performing on the pitch.
"Even though I wasn't playing, I could feel the tension. It was a cold night and, from the first minute to the last, it was so intense.
"I can't watch the final again. If it's on TV, I have to switch the channel."
World Cup birth
The final may have left an indelible mark on Vorm's mind, but the 2010 World Cup did coincide with one moment which transformed the goalkeeper's life for good.
"My wife was pregnant and we spoke about it. It wasn't easy but I made my mind up that, if I had to choose, I'd have to go to the World Cup," he recalls.
"Then after the first game against Denmark, I was speaking to my wife Daisy on Skype and her water broke. I didn't sleep the whole night.
"The next day I told van Marwijk the situation, we trained and had a game the day after. My son Jaivy was born in the morning, so everyone was happy.
"After the game, I was walking off the pitch celebrating the win with the other players when van Marwijk called me over and said 'Michel, we have a surprise for you'.
"He told me they'd arranged a flight for me to go back to Holland and see my son before flying back 48 hours later.
"It was such a surprise and I'm still thankful for that moment. I thought I'd have to wait until the end of the World Cup but, at the eleventh hour, I was flying back to Holland.
"Then I was back in South Africa on the training ground. It all happened so quick it felt unreal."
World Cup dream
Although a place on the bench gave Vorm a prime view of the 2010 final, his memories of the tournament are still slightly tempered by the fact he did not get the chance to play in South Africa.
But when the Netherlands begin this Fifa World Cup with a rematch against Spain on Friday, Vorm may well be closer to the action.
The Swansea keeper played a prominent role in the Oranje's qualifying campaign and Maarten Stekelenburg, first choice in 2010, is no longer in the squad.
"It's totally different to the last World Cup, and in a good way. Now I feel I've got a good chance to play in a World Cup," Vorm says.
"I'm a totally different goalkeeper - I'm more experienced, I'm older, I've got two kids. I'm a different person."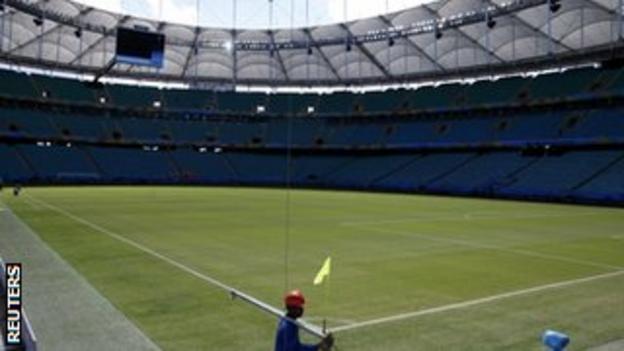 When the Netherlands face Spain in Salvador, there will doubtless be scores to settle from that turbulent night in Johannesburg.
For Vorm, however, playing in Brazil would simply be the fulfilment of a dream.
"If you're a footballer and you want to participate in any World Cup, this is the best one," he says.
"The whole country eats, sleeps and breathes football. It's a beautiful country and, if you think about Brazil, you think about football.
"Playing at this World Cup will be a dream come true. Moments like these are just a blessing.
"So many people growing up want to be a footballer, but then you see the percentage who make it and then the percentage who go on to play for their national team, it's so little.
"Sometimes you forget about it because everything goes so fast but, if you sit down and think about it, it's very deep and you can be proud."