Sepp Blatter: Stewart Regan of the SFA supports calls for Fifa reform

By Tom English
BBC Scotland
Last updated on .From the section Football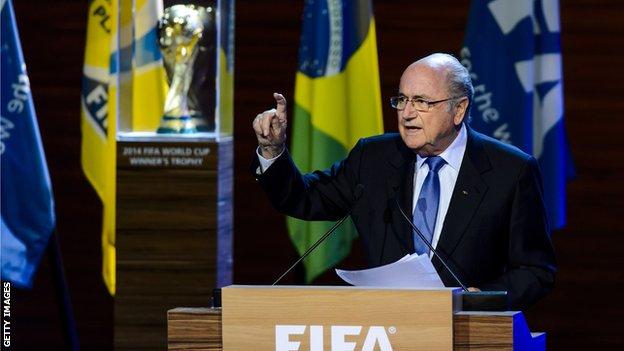 Whatever name has been ascribed to Sepp Blatter's critics within Fifa - the admirable reformers or, more pertinently, the lambs to the slaughter - Stewart Regan is one of them.
The chief executive of the Scottish FA made no bones about the need for change within football's governing body. Speaking from Sao Paulo, Regan outlined where he stands on the Blatter issue.
"We support the view that he [Blatter] should not stand for another term as Fifa president," said Regan. "We need new leadership, we need to restore Fifa's reputation, because it's become tainted by the allegations of bribery and corruption.
"At the Congress vote on Wednesday, we [the SFA] voted in favour of term limits and age limits for officials, so for somebody to stand again for what would be a fifth successive term is not the right message to send out.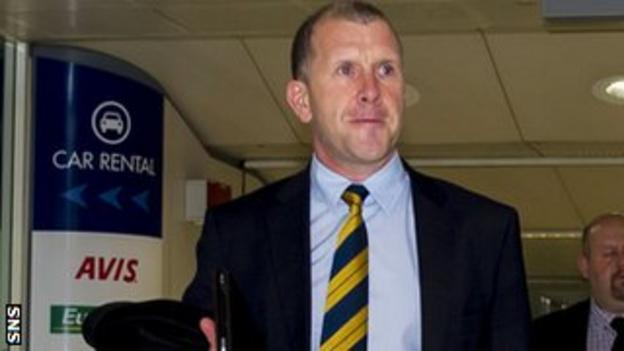 "We need to drive it, modernise it, restore faith in it. We need a new plan.
"A fifth term when the organisation doesn't have the greatest reputation is not the right way for the game, but we have to stand by a democratic process. We are one country out of 209 and we're bound by the rules and have to live with it."
Regan called Blatter's performance at the Fifa Congress on Wednesday a "masterclass" in political nous.
It was such an emphatic denouncement of a mini-uprising in Uefa the day before that many European delegates left the room feeling crushed by the Blatter juggernaut.
"You might say that those of us who want change were put back in our box," said Regan.
In flexing his political muscle, Blatter illustrated yet again that, unless allegations of corruption can be proven against him personally, then nobody is going to get in his way next year when he will seek a fifth term.
Put simply, Blatter will go when he is ready. The weight of support he commands among 150 Fifa nations guarantees it.
The Congress was Blatter at his calculating best - or worst. Visibly shaken when slammed by delegates among the Uefa nations on Tuesday, he came out fighting.
Before the vote on term and age limits was taken, requests were granted for some last-minute speeches from officials of Haiti, Congo, Sri Lanka and Pakistan.
Each speech eulogised Blatter and Fifa and how the organisation came to the rescue of football in their countries in the greatest hour of need: earthquakes, tsunamis, flash floods, thousands of fatalities and the support of Fifa's "family" in using its financial might in rebuilding destroyed facilities and towns.
The message was that Fifa have never had it so good, with $1.4bn in reserves in the bank and with revenues up 20-fold in the last 20 years.
The gist of what Haiti, Congo, Sri Lanka and Pakistan were saying was, "Blatter is doing a fantastic job, so why change the rules? This is a winning formula". And so many agreed.
When they had finished their 'impromptu' speeches there was a round of applause in the room that crushed the rebellion ever further.
And to pile it on, Blatter announced that Fifa is doing so well that every member nation is going to get $250,000 in additional funding.
He wasn't quite finished. If the 2014 World Cup proves to be the success that Blatter is sure it will be, every member country will get an extra $500,000 on top. More applause.
Something else happened. When the time to vote had arrived, it was announced that the electronic device wasn't working, so what was going to be a private vote done simply by pressing a button was now a public vote. No anonymity now.
As if by magic, there were two coloured cards in the meeting packs given to all delegates when the conference began - green if you wanted limits on terms and age for FIFA officials, and red if you wanted no limits.
The president wanted red and he got it. A sea of red. Next, he called for the greens and a smattering went up; 50 or less. Blatter's eyes cased the room in that moment.
It was the type of landslide victory that shows there is little hope of change at the very top of Fifa unless there is a smoking gun that directly and indisputably involves Blatter and corruption.
It may be the case now that Uefa don't bother putting up a challenger against him next year when the presidency is voted upon again.
Any candidate would be certain of defeat. A mortifying defeat at that.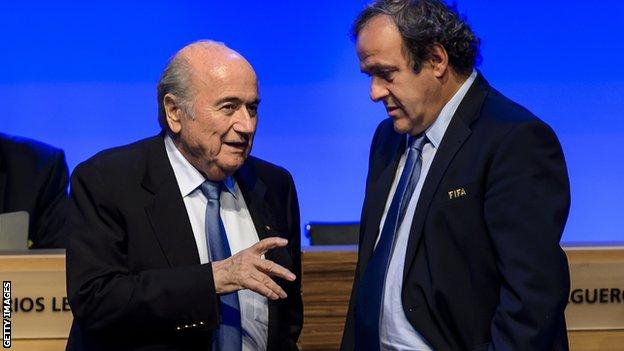 Michel Platini has told his organisation that he will decide before the end of August whether to put his name forward.
The likelihood is that the Uefa president won't for fear of getting trounced, and thereby causing damage to a more likely bid for leadership in 2019.
Even then, you have to wonder. The vast majority of FIFA look on UEFA as arrogant and laden with money - and there is much evidence to support their grievance - while the countries of the developing world are left to struggle on without the support of government and with none of the riches of television and sponsorship enjoyed in the bigger markets in the western world.
Fifa money is their lifeline. Blatter is their God.
The fear is that whenever he goes, it will be an acolyte, rather than a reformist, who will take his place. To the sound of cheering, Blatter nailed the insurrection on Wednesday.
He might be an old man but he is still running rings around everybody in the world game. And the scary thing is that nobody is going to stop him anytime soon.