World Cup 2014: England must use counter-attack against Italy
Last updated on .From the section 2014 Fifa World Cup

There has been a real feel-good factor surrounding England ahead of this World Cup - but now is the time to deliver.
I have a good feeling that, if we produce a positive performance against Italy in our first game, it will set us up nicely for the rest of the tournament.
The temperature in Manaus will play a part in how England perform and, sadly, so will the state of the pitch, which is not good.

For the life of me I cannot see why if you have seven years to build a stadium you don't get the most important thing right, which is the playing surface. I just do not understand how you can make those mistakes.
It is disappointing, but it will be the same for both sides. It might even suit England in a way if it prevents Italy finding any rhythm in their passing but, of course, it might stop Roy Hodgson's side, too.
It is one of those things where England are going to have to deal with it the best that they can, but I am confident the manager will have his team set up in the right way.
Welbeck and Lallana the first line of defence
I am expecting the team that started in the warm-up games against Peru and Honduras to be Hodgson's starting XI on Saturday.
That would be my team to face Italy, too. It is a solid and experienced line-up, and has also got energy in the middle of the pitch - with Jordan Henderson plus Adam Lallana and Danny Welbeck, who will be on either wing but tucking inside.
Phil Neville's England team to face Italy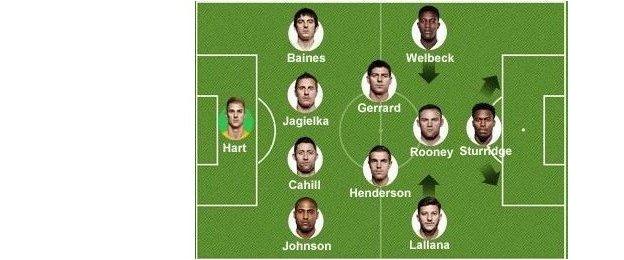 England are probably not going to be playing with much width because the important thing is not to get outnumbered in the middle of the pitch, which is where Italy are strongest.
But the aim will be to counter-attack quickly when they win possession and, if they do that, I think the flexibility in England's front four means they can cause problems.
If you look at the Italy midfield of Andrea Pirlo, Daniele De Rossi and Marco Veratti, they are all brilliant on the ball but they will not be the quickest to recover if you put quick, energetic players in and around them to try to dispossess them and then spring forward.
Lallana and, in particular, Welbeck will play an important role here, because they are intelligent enough to come inside and take up the right positions.
I know Danny well from working with him at Manchester United and know that he is brilliant at winning the ball high up the pitch. He uses his pace as a weapon for that side of his game, as well as when he is attacking, and he is clever enough to know how and when to do it.
When I was growing up, my youth-team coaches would always point to former Liverpool striker Ian Rush as the best there was at being the first line of defence as well as a striker and Welbeck and Lallana have that ability, too.
But it is not just a case of putting one of them on Pirlo to deny him time on the ball and man-marking to stop him dictating play in the way we know he can, because doing that would limit England going forward.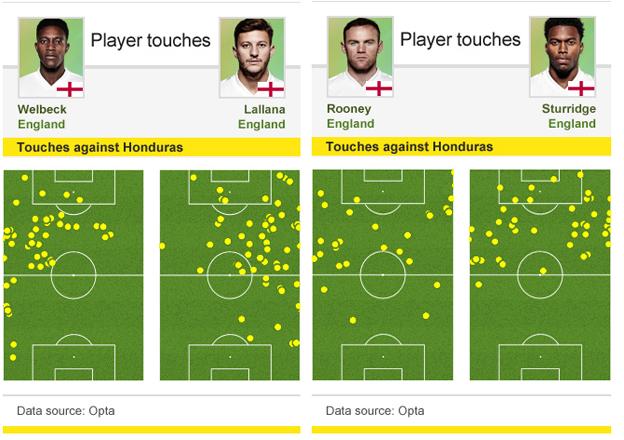 Whoever is nearest will get the job, and it will be the same when De Rossi and Veratti have the ball, too. All three are a threat, particularly Veratti, who I watched at the European Under-21 Championship last year.
He is a brilliant manipulator of the ball, and it will be down to Rooney, Welbeck and Lallana to stop the trio setting the tempo for Italy.
When England are attacking, those three and Sturridge will be doing a lot of inter-changing rather than staying in one section of the pitch. When they did that against Honduras, I thought they looked really exciting and it also means it is impossible for defenders to mark them.
England's front four against Honduras

Player

Welbeck

Lallana

Rooney

Sturridge

Minutes played:

79

90

45

90

Touches:

48

59

32

49

Shots (on target):

2 (2)

2 (0)

1 (1)

3 (0)

Tackles:

3

3

0

1

Tackle success:

100%

100%

N/A

100%

Recoveries:

5

10

0

1

Stats: Opta
When England win possession, the aim will be to get Sturridge in a one-on-one situation with Giorgio Chiellini or Andrea Barzagli
Sturridge likes playing just off-centre, in those little channels down the lines of the 18-yard box, and he can be devastating in those areas if the full-backs have been drawn out and the centre-backs do not have cover.
In defence of England's back four

Italy will also be looking to get Mario Balotelli one-on-one with either Phil Jagielka or Gary Cahill.
I have played against Balotelli and, when he is up front on his own, he likes to work out wide rather than down the middle.
He is not an out-and-out centre-forward because he prefers to be more elusive. When he plays for Italy, he waits for Pirlo, Verratti and De Rossi to get on the ball and whip in diagonal balls behind defenders.
Some people see England's defence as their weak link but the back four has actually been the most settled area of the team in the last year. Jagielka and Cahill have got a really good understanding and they will need it on Saturday.
Italy are not prolific goalscorers but it will be a game where both centre-backs have to be totally focused, especially when England are in possession and, in particular, when they are attacking.
That is when England will have to switch on, because one pass from a quick counter could put Balotelli through on goal.
But there is nothing about Italy's approach that will surprise England. In fact, Jagielka will probably enjoy it. I played with him at Everton and know first-hand that he can defend in wide areas, which some centre-backs can't do because they feel exposed out on the flanks.
Cahill is also very comfortable in one-on-one situations out wide. And with Balotelli likely to be the only Italian player up front, that means the full-backs will be able to get forward, which is another positive.
Brother, pundit and coach

Even if England's approach is the right one, it will not be easy for them against an experienced tournament team such as Italy.
I do not see a repeat of what happened in the quarter-finals of Euro 2012, when Italy completely out-passed them because this is a completely different England team. Not only has the personnel changed, but the manager has too - Hodgson has evolved his approach and his side have a very different mind-set.
The vibe coming out of the camp seems amazing, as positive as I have seen. My brother, Gary, is obviously in the middle of all that, as one of the England coaches, and he tells me the mood inside is as good as it appears from the outside.
I am here in Brazil as a BBC pundit but he is still my brother so I will be in touch to wish him luck and speaking to him throughout the tournament.
It was a similar situation last season, with me working at United and Gary on TV. He gave me his view as my brother. The roles are reversed now but there was never a point then when we discussed internal team affairs.
That was an unwritten rule and it will be the same over the next few weeks but, hopefully, I will get to watch England train because I am based in Rio just around the corner from England's base.
I am here for the BBC but I will have my United hat on, too, catching up with our players who are here with their national teams, and also looking at others, too.
If I get some spare time, I am hoping to watch a lot of the other teams train because I am a young coach and I want to see the best coaches working in training and look at other players, systems and tactics. I am out here with a really open mind, hoping to learn.
I will know somebody in most camps. I was in Sao Paulo for the opening game and caught up with Croatia's former Everton striker Nikica Jelavic to watch his team train. I will do the same with Tim Cahill and the Australians, and go and see the Dutch and Japan in Rio, too.
With so many fantastic former players in Brazil, there is a mountain of people here to learn from and tap into so it is going to be a fantastic experience for me and a great learning one as well.
Phil Neville was speaking to BBC Sport's Chris Bevan in Brazil.