World Cup 2014: Xavi confident in Spain's passing style
By David Ornstein
BBC Sport in Salvador
Last updated on .From the section 2014 Fifa World Cup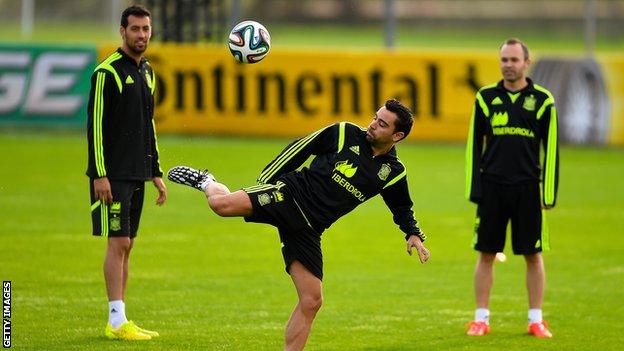 Spain midfielder Xavi says his team will "win or die" by their tiki-taka style of play as they prepare to launch their World Cup title defence against the Netherlands.
Friday's meeting in Salvador is a repeat of the 2010 final, when Spain edged the Dutch in a physical match.
But Xavi insisted La Roja will not waver from a possession-based approach.
"We've had this philosophy now for a number of years and I think it would be a mistake to change it," he said.
"We know that we're going to win or to die with this style of play."
Spain, winners of the last three major international trophies, are aiming to become the first team to win consecutive World Cups since Brazil in 1958 and 1962 and the first European side to win football's biggest prize on South American soil.
There are an unprecedented 16 survivors from the squad that triumphed in Johannesburg four years ago despite the Netherlands employing physical tactics designed to disrupt their trademark rhythm in a match that featured 14 yellow cards.
"Our style of play is very clear, we want to dominate the game, we want to keep possession of the ball," Xavi explained.
"We've had many successes over these years to justify this style of game.
"All our players have adapted to this philosophy and that's what we're going to do. We're going to compete like this until the end. We hope we'll be able to make history again with that style of play."
Netherlands coach Louis van Gaal refused rule out a similar gameplan this time, arguing: "Physical resistance is part and parcel of football, it's part of the profession.
"There is a referee that will point out what the limits are. I don't think the team crossed the line four years ago."
Xavi, 34, is the oldest member of Spain's squad and one of seven players aged 30 or over. There are, however, six squads at the tournament with an average age higher than La Roja's 27.8.
The average age of a World Cup-winning squad calculated to be 26.4.

They are also comfortably the most experienced squad taking part, in terms of caps won, while last season's Champions League finalists and Europa League winners were Spanish clubs.
"All the players we've brought with us to Brazil have their own history," said Spain coach Vicente Del Bosque. "They've performed very well, they're playing in their own clubs very actively.
"But we can't say that ours is a veteran squad. I think it's mature. We're not afraid of anyone or anything; we are at our best. These players are not here for what they've done in the past but for what I believe they will do in this World Cup."
When asked if this could be the end of an era, the 63-year-old replied: "I hope that will not happen. We have an Under-21 squad which has recently been European champions, we've renewed our players. We have 30% new players on this squad compared to the squad in 2010.
"I'm personally not afraid of the future. I think we've seen this generation of players are being emulated by these younger players, so there are certainly going to be guarantees for the future."
The Netherlands, by contrast, have only retained six players from the last World Cup and are the eighth-youngest squad in Brazil.
Del Bosque called their approach in 2010 "brutal" but praised opposite number Van Gaal for the changes he has made while "maintaining the essence of Dutch football".
Van Gaal gave a bullish assessment of their chances: "We can make the semi-finals or the final, I believe that absolutely. We will do whatever it takes to be the big surprise of the tournament."
Netherlands forward Arjen Robben denied his team had a score to settle: "I don't believe in revenge," he said.
For the best of BBC Sport's in-depth content and analysis, go to our features and video page.