World Cup 2014: Wayne Rooney wants Sturridge understanding
Last updated on .From the section 2014 Fifa World Cup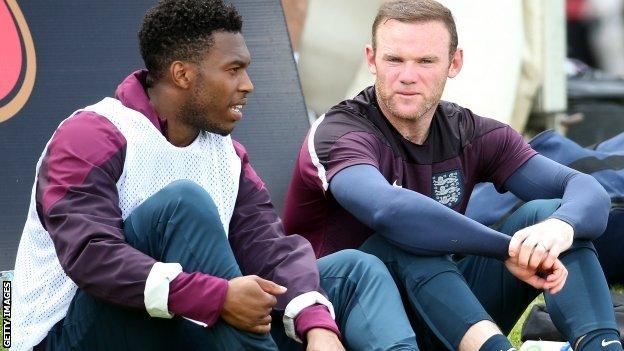 Wayne Rooney hopes to strike up a partnership with Daniel Sturridge that emulates his England colleague's club success with Luis Suarez.
Now he wants to play the Uruguayan's role with Sturridge for England.
"It's easier at a club but we have had time to work on stuff. Hopefully we'll see the benefits of that," said Rooney.
"Suarez and Sturridge have certainly been the best two front men in the Premier League this season.
"Even in training you try and communicate and get that way of playing."
Between them, the Liverpool duo scored 48 times last season. Sturridge found the net on 24 occasions in all competitions, by far the 24-year-old's most prolific campaign.
"He has turned into a top striker and it's great to see," said Rooney, 28.
"Liverpool manager Brendan Rodgers deserves a lot of credit for his progress.
"He's been at Man City, went on loan at Bolton and didn't get a chance at Chelsea, where he played out wide on the right and then was left out of the team.
"Now he has gone to Liverpool and played almost every game.
"His goalscoring record is incredible. He is unpredictable and that makes him hard for defenders to mark."
England open their Group D campaign in the sweltering conditions of Manaus on Saturday.
Manchester United's Danny Welbeck would appear to be the major fitness concern for an England squad who will train on the much-criticised pitch at the Arena Amazonia on Friday afternoon.
But Rooney said on Wednesday that Welbeck will be fit for England's opening game despite him picking up a thigh injury during training on Tuesday.
After listening to the celebrations outside the team hotel in the Amazonian city last night following Brazil's 3-1 win over Croatia in the opening game, midfielder Jordan Henderson hopes Roy Hodgson's men can make some noise themselves.
"The squad watched the game together and everybody could see how big the World Cup is," Henderson told BBC Radio 5 live.
"When Brazil are scoring fireworks are going off outside the room. The whole world is watching.
"It doesn't get much better than playing in a World Cup in Brazil. It is an amazing place."
For the best of BBC Sport's in-depth content and analysis, go to our features and video page.