From Stamford to Sorriso: Slums, sackings and smiles
By Matt Halfpenny
BBC Sport
Last updated on .From the section World Cup
English footballers can thrive in the heat of Brazil. Fact.
Just ask Seth Burkett. One minute he was running out in the Evo-Stik League with local club AFC Stamford, the next he was defying the sweltering heat to play for Sorriso Esporte Clube in tropical South America.
By his own admission, the then 18-year-old from Barnack was never going to be the next Marcelo, nor was he likely to emulate the feats of his boyhood hero, the flamboyant Roberto Carlos.
But as a player trading modern football's birthplace to play as a professional in its spiritual home, Burkett was bucking an increasingly common trend of players moving in the other direction to play in Europe.
Although not the first to make such an unlikely transition - schoolteacher and former Liverpool player Harry Welfare scored 163 goals in 166 for Fluminese between 1913 and 1924 - it's unheard of in the modern era.
And no wonder. With temperatures peaking at 50C, an uncompromising daily regime far removed from those experienced by Neymar, Hulk and co and a monthly salary of just 200 Real (£120), life at at the Estádio Egídio José Preima was not for the faint hearted.
"It will be hard for the England team at the World Cup with the heat, as it will for the rest of the European sides, because they have just a few days to acclimatise to the heat and humidity, which took me two months to do," said Burkett.
"I was the only English professional in Brazil, the first for some time, and it was a crazy thing to do, but I was only 18 and I didn't think twice. What else did I have to do?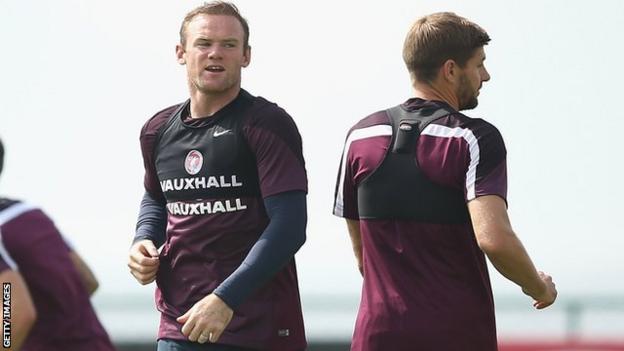 "All I really knew about Brazil before I went out there was from Geography lessons. I thought it would be like the film City of God. I was frightened the kids would kill everyone with guns. It turned out I had no need to worry."
Formerly on the books of Peterborough and Northampton, Burkett's unusual career break came when he was playing for hometown club AFC Stamford's Under-18s side when invited to tour Brazil in the latter part of 2009.
It did not start well as Stamford were not surprisingly thrashed 8-0 when taking on Brazil's Under-17s, with Liverpool's Philippe Coutinho netting a hat-trick.
A few the older players were asked to train with the under-18s of local team Vitória and with their regular left-back called up for Brazil's Under-19s, a disbelieving Burkett was asked to fill in.
He said: "It was horrible. It was midday in the sun and Vitória is quite far north so it was 40 degrees C or hotter. As a left back, in Brazil, you have to be up and down the pitch the whole game, so I massively struggled.
"But I must have done alright because a man who was helping out with our team said I was a good player and asked if I could go back and play for his team in the 2010 season. My answer was 'of course I can'.
"I didn't even think about it twice. My parents were both really supportive and said I had to do it.
"My mum said before I went out she would pay my phone bill so I called home once a week. I'm not sure she was banking on the £900 phone bill I ran up."
But any delusions of grandeur were quickly quashed when the teenager was shown to his living quarters.
Burkett needed no invitation to soak up the football-mad culture, but he also quickly realised he would also gain a fascinating insight into the desperate socio-economic situation in one of the most populous countries on earth.
"The whole team lived in the same place, a converted house on the edge of a favela (slum)," said Burkett.
"There were 28 of us in three rooms. Six in mine, eight in the next room and 14 in the other.
"The conditions were cramped, horrible and really dirty, but the clubs do it on purpose to instil that desire. Even the top clubs have bad living conditions to make you want to 'escape' and really succeed.
"All the windows were barred and the doors locked at 12 midnight.
"For the food, it was rice and beans (feijoada) every single meal, every day, including Christmas Day, which was chewy and very bland, but the Brazilians loved it because they said that's where they get their creativity from.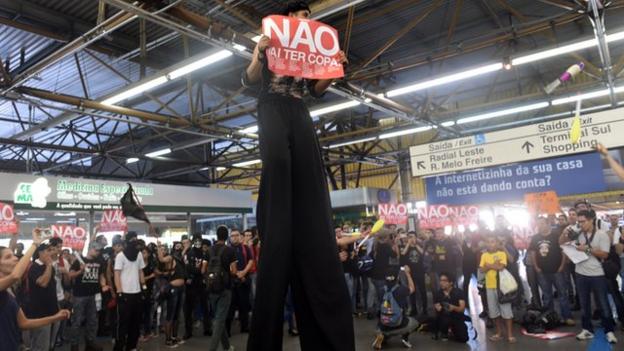 "I went to hospital once and all the tyres on the ambulance were flat and the machinery out of date.
"That's why there is a lot of social unrest about why the government is spending so much money on building new football stadiums when there are schools and hospitals that need improving."
When it came to football skills, however, there was nothing low-grade about the Brazilian system. Even now Burkett, 23, and studying a masters in English at Loughborough University, having graduated in Sports Science and English, marvels at the ability that was on show.
He said: "There was hardly anything about tactics, it was all about having the ball. The coach told us a musician wouldn't practice without his instrument and an artist wouldn't practice without his paintbrush, so why should we practice without the ball?
"I genuinely lost count of the number of times I got nutmegged. Out there it is celebrated more than goals are. In my first session with Stamford, I nutmegged the captain and the next time I got the ball he smashed me and I was out for two weeks.
"The first session with the seniors at Sorriso, I nutmegged the captain (Capone), who won the European Super Cup with Galatasaray, and he turned around and high fived me and said 'ah, very good, English!' That says a lot about the different styles.
"It's so hard to compare the standard with England, because the style of play is so, so different. You might say it is comparable to the Football Conference, but then within that we had guys who had played for Brazil Under-23s and a guy who signed from Hamburg too."
Having spent a season from January through to April with Sorriso, playing mainly for their youth team, Burkett was forced to come home after his visa ran out and he was asked to go to Paraguay to renew it.
By that time he had become something of a minor celebrity because of his nationality and also inadvertently caused an off-the-field storm.
"There was one time when I woke up and there was a camera crew filming me sleeping," he said. "I used to be happy enough having my name in the list of substitutes in the Stamford Mercury, so to go from that to having cameras pointed in my face all the time was surreal, just because I was English.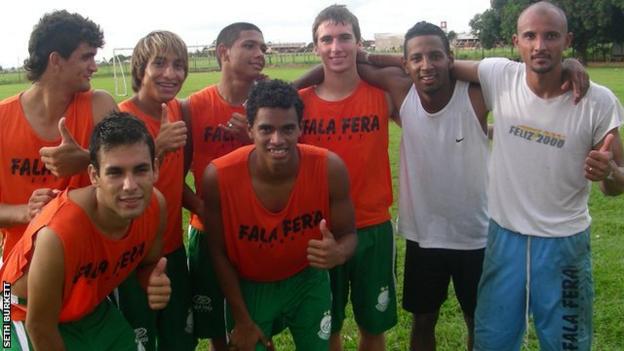 "Brazilians recognise that the English gave them football. They see Brazil as the spiritual home of football but England as the actual home. For them it was a great honour because of the history in the past.
"There was one time when didn't get to play in one of the competitions, which I was very disappointed about. So was the chairman, who sacked the manager and told me it was because he didn't play me, but I'm not sure if I believed him."
Burkett left for a home with a huge appreciation of Brazil and its people and it has inspired him to write a book about his experiences called 'The Boy in Brazil; living, loving and learning in the Land of Football'.
He said: "Football matters and the passion I saw at Sorriso's stadium was crazy. Otherwise, the Brazilians were incredibly laid back and disorganised, but loved life.
"Everyone was dancing at training and down the aisles on the buses, music playing all the time.
"They loved to have fun and really stitched me up with the Portuguese language. There was one time when I wanted to ask a policeman what time it was but what they told me to say was actually swearing at him. Luckily the policeman recognised me.
"It's going to be an incredible tournament - football is absolutely everywhere. It's used in every single advert on TV.
"There was one time on the news that a Palmeiras player had scored a great volley from the halfway line and so in all the physics lessons in school they were studying how he did it, and the angles involved."
These days, Burkett's improved control have turned him into a leading futsal player, a smaller version of football played largely indoors, where he has represented England at under-21 level. But would he ever go back to Brazil?
"I've had about 10 different offers from clubs, but either they can't sort out a work permit, the club goes bust, or the coach gets sacked," he said. "I still hold out hope that I could go out again some day."
It's hardly surprising. After all, Sorriso is Portuguese for smile.