World Cup 2014: England 'ready to show evolution under Hodgson'

By Phil McNulty
Chief football writer
Last updated on .From the section Football
From Manaus
Just before England's players walk out to stand alongside Italy in the tunnel at the Arena Amazonia on Saturday night, after a final address from manager Roy Hodgson and captain Steven Gerrard, reality will take hold.
The time for waiting will be over. Weeks of preparation stretching from St George's Park to Portugal, from Miami to Manaus via Rio de Janeiro, will have been concluded. The miles will be on the clock and acclimatisation complete.
Hodgson and his players will have reached the special place deep in the heart of the Amazonian rainforest that has been their target since 6 December when the World Cup draw handed them this tough assignment in an alien environment.
It has all been leading to this. Gerrard will deliver a brief address before England take on Italy in the vast bowl that stands out as a piece of modern architecture in a tropical landscape.
Gerrard, 34 and playing in his third World Cup after missing 2002 because of injury, is not a man for Churchillian oratory. The message will be a short and simple one and it will be this:
England, having come this far, both in a footballing and geographical context, must not return to that dressing room two hours later wondering what might have been.
He said: "I will probably say something in the dressing room. Not just from myself. There will be lots of verbal exchanges in there, but towards the end, when we are ready to go out, it will be: 'Let's not have any regrets.'
"All the preparation is there. Let's believe we have all the energy, all the work in the legs, in the tank. Let's relax and let it happen. The key is just not to come off the pitch with any regrets and do what it takes to get that result."

For Hodgson, the great pragmatist in charge of an exciting England blend of youth and experience, this will be the greatest test of his career. A long, nomadic journey through Europe's clubs and countries will not be defined by these games but they will go a long way to shaping his reputation, whether that is fair or not.
Hodgson's reputation for organisation has ensured no short cuts have been taken in getting ready for what will happen in front of those here in Manaus and millions watching around midnight back in England.
Training and preparation, including games against South American opposition in Peru at Wembley and Ecuador and Honduras in Florida will have focused on every possibility, but this one here, in conditions that will test even the fittest, will have captured his attention.
Hodgson's relaxed demeanour has survived the build-up almost intact, hackles only raised by the questioning of Wayne Rooney's current status and the unarmed combat utilised by the Hondurans in Miami's Sun Life Stadium that had him watching much of the game through his fingers.
England's front four against Honduras

Player

Welbeck

Lallana

Rooney

Sturridge

Minutes played:

79

90

45

90

Touches:

48

59

32

49

Shots (on target):

2 (2)

2 (0)

1 (1)

3 (0)

Tackles:

3

3

0

1

Tackle success:

100%

100%

N/A

100%

Recoveries:

5

10

0

1

Stats: Opta
He has experienced a World Cup before, with Switzerland 20 years ago, but the global scale of the game and the profiles and pressures associated with England make this entirely different.
Hodgson has covered all options while the FA has catered for every need. There are no excuses after a run-in that has only been derailed by Alex Oxlade-Chamberlain's injury.
He said: "If it doesn't go well for us, it's not for any other reasons that it didn't happen for us on the night. There is nothing that would please us more than to give a performance that has everyone thinking: 'This is terrific,' 'What a good England team.' That's our only hope, our only goal."
Even Hodgson's vast experience coaching at club and international level in Sweden, Switzerland, Denmark, Italy and Norway - as well as Blackburn, Fulham, Liverpool and West Bromwich Albion in England - cannot act as a shield against the pressures of this tournament.
The world's media gathered in Manaus on Friday to hear his final news conference. Before it he said: "There is tension as without it, it would not be worthwhile. Games without it you don't remember but it's a good tension."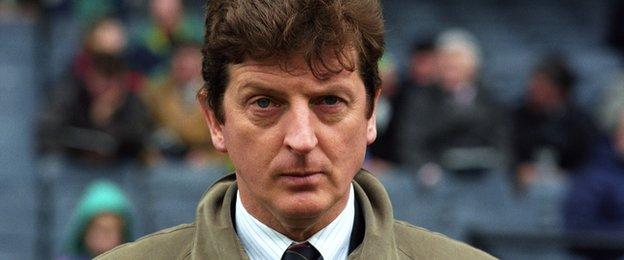 The Football Association is satisfied with Manaus' much-maligned surface and now the team spirit and confidence that has been nurtured, not to mention spoken about at regular intervals, will be put to the only examination that counts - by results.
The sub-plot to England's selection has been Hodgson's reputation, one he rails against, as a coach of natural caution. Will he be bold enough to utilise players such as Liverpool youngster Raheem Sterling and Everton's Ross Barkley as the World Cup unfolds?
Gerrard said: "He is responsible for having the squad exactly where it is now and it is ready and confident. I think he picked a very bold and brave squad. People ask whether Roy is brave or negative? I think the 23 players he has picked has shown his intent.
"He has a game plan in place and it is not negative. It is not sit back and camp on the edge of our box. We have a game plan to attack with confidence and belief."
England's squad has evolved, injecting a breath of fresh air since Italy knocked them out of Euro 2012 on penalties shortly after Hodgson's appointment.
If Hodgson gets the balance of his selection right they may just prove they have made more progress than the Italians in the intervening time and get the result that would give them an ideal World Cup platform.
For Hodgson, Gerrard and England's players, there can be no regrets. It has all been leading to this night in Manaus.