Scotland: Craig Levein regrets some of the decisions he made

By Richard Wilson
BBC Scotland
Last updated on .From the section Football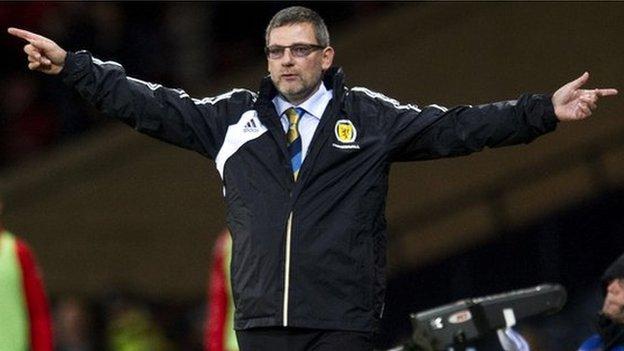 Craig Levein has admitted that, in hindsight, he was wrong to field Scotland in a 4-6-0 formation against the Czech Republic in October 2010.
Levein spent almost three years in charge of Scotland, but took time to adjust to only short interactions with players.
And he concedes that he made "numerous mistakes" during that time.
Levein replaced George Burley in December 2009, but found the Euro 2012 qualifying campaign difficult to negotiate from the outset.
He felt constrained by the lack of time spent with the squad, and also that the players were not "onside".
This culminated in Levein criticising then Everton forward James McFadden during half-time in an unimpressive 2-1 win over Liechtenstein.
A shortage of strikers, and Levein's sense that Kenny Miller was still smarting from having been dropped previously, contributed to the manager's choice of a 4-6-0 formation against the Czech Republic.
Scotland lost 1-0, and Levein provoked much ire for his tactics, which were based on Barcelona's formation.
"I put attacking players in defensive positions in the hope that when we got the opportunity we could break forward and try to get a goal," Levein told BBC Radio Scotland's Managing Scotland series.
"The decision was based on me lacking confidence in the players at that time. Did it work? No. Having had the experience of hindsight, I wouldn't have done it. But at the time I thought it was the right thing to do.
"I had issues within the squad [at the outset], but that's not a thing you tell people, it's got to be kept in house. I'm a bit of a control freak and I like to have things running the way I want them.
"There were bits and pieces of problems within the camp. Even at the training sessions, there was a little bit of messing about going on, stuff that I would normally have made sure didn't happen.
"In a situation where you don't own the players, you're borrowing them, you have to be a lot more careful with what you're saying. I found that a little bit alien. Normally I'd be in with both feet sorting it out, where I was a little bit more stand-offish.
"You're always pushing and trying to find the right formula and in that [Liechtenstein] game, James just didn't play particularly well. I've had a go at him, a lot of it to do with my frustration, and maybe his performance wasn't as bad as I perceived it to be, but it was a frustration thing more than anything else."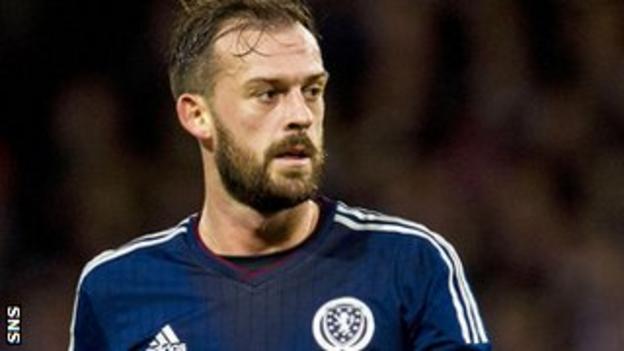 While trying to establish a relationship with his players, Levein also lost the services of one. After being dropped, Steven Fletcher responded to a call-up by telling Scotland's administrative staff by text to inform the manager that he did not want to play.
It was October 2012 before Fletcher and Levein - who both took entrenched positions - were reconciled and the forward returned to the squad.
"That's something I regret. I am stubborn," Levein said. "I took umbrage. You've got a chance to play for the national team and he [didn't] want to play for Scotland; I got a little bit defensive about that.
"I [later] got word that he might want to play so I made the moves to get in touch with him and have a chat with him.
"I really like him, I do, he's a smashing boy. We had a good chat and I said, 'I'm sorry for how this has come around, this is just me digging my heels in, thinking I'm doing the right thing'.
"Again, I regret it, because I like him and I would have liked to have him in the squad previously.
"You can't change your personality, and it's worked for me throughout my career. But international football is different and my diplomacy skills maybe aren't as good.
"If I had my time again, I would be much more relaxed about it. It's not a job that you need a huge amount of intensity for. You have to be a little bit more relaxed than I was."
Managing Scotland, Saturdays during the summer, 15:00 BST, BBC Radio Scotland.