World Cup 2014: Wayne Rooney 'should be number 10 or not play'
Last updated on .From the section 2014 Fifa World Cup

If Wayne Rooney does not play in the number 10 position behind Daniel Sturridge in England's next World Cup game against Uruguay on Thursday, then I would not play him at all.
I definitely would not pick Rooney on the left or the right of midfield, which is where he played in England's defeat by Italy in their opening game in Group D on Saturday.
Yes, he made Sturridge's goal and he did his best for the team, but being wide is not his best position. England have got other players who are more effective there.
The question I would ask England manager Roy Hodgson - is Wayne a left or right-sided midfielder? And the answer is no.
What now for Wayne Rooney?
So, what to do with Wayne Rooney is now England manager Roy Hodgson's big dilemma at this World Cup. Hodgson has a decision to make.
Because of how well they played against Italy, Raheem Sterling and Sturridge have to start against Uruguay in a game England need to win. You cannot leave either of them out.
Sterling excelled in that number 10 role but that does not mean there is no place for Rooney, though.
I would have him in behind Sturridge, where he has proven himself time and time again, and move Sterling to the right, where he plays for Liverpool the vast majority of the time.
But either play Rooney off the striker, or do not play him at all.
Hodgson felt Rooney played well last night when he was on the left in the first half. If that was the case, why did he swap him over to the right for the second half?
Rooney was unhappy and uncomfortable out there and I understand why. We should not be playing our top goalscorer out of position. Put him where he can do some damage.
He has got 39 goals for England and is only 10 off Sir Bobby Charlton's record.
At the age of 28 he could and probably should go on and break it - but he won't if he is playing out of position.
England have defensive issues too
Rooney did get one big chance to score his first goal at a World Cup finals - but he missed it, badly.
Leighton Baines put him in down the left side of the area and I thought there was a gap for a bending shot into the opposite corner of the goal.
So did the keeper, because he went that way - but Rooney pulled it wide of the near-post instead.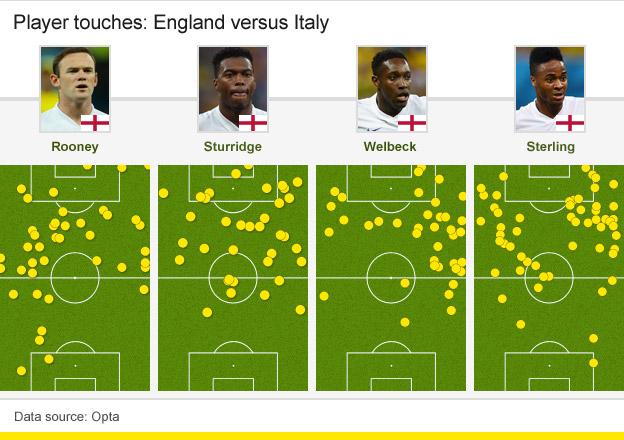 It would have looked great if it had gone in but it didn't and it has turned into another stick to beat him with.
Despite that miss, Rooney's attacking statistics still compare well with the other members of England's front four.
England's front four against Italy

Player

Rooney

Sterling

Sturridge

Welbeck

Minutes played:

90

90

80

61

Touches:

43

58

38

39

Shots (on target):

3 (0)

4 (0)

3 (2)

1 (0)

Chances created (assists)

3 (1)

1 (0)

1 (0)

0 (0)

Passing accuracy

87.9%

90%

85.7%

88.9%

Tackles

1

2

0

3

Stats: Opta
Rooney had three shots on goal - only Raheem Sterling had more. He also created three chances, more than any other England player.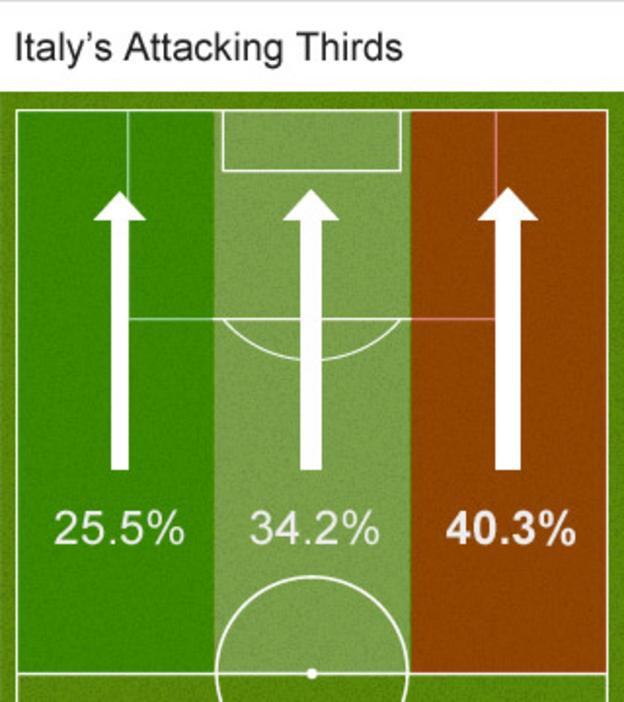 But playing Rooney on the left had consequences for the team, not just his personal performance.
Despite his work-rate, he has been criticised because of the amount of space Italy found when they came forward down his flank, something they did time and time again in the first half.
That was because Rooney did not want to be chasing their right-back into our left-back position - he wanted to be high up the pitch causing Italy problems, which he did with his cross for Sturridge's goal.
Whether they targeted it as England's weak link or not, Italy's right side of Matteo Darmian and Antonio Candreva was their strongest department and it was down that side that Italy won the game.
Left-back Leighton Baines got more protection when Rooney switched with Danny Welbeck and went over to the right in the second half but it was still from that flank that Candreva crossed for Mario Balotelli to head the winner.
Encouraging signs for Uruguay test

There is definitely room for improvement defensively but I still saw far more positives than negatives in that England performance.
The biggest positive was Sterling, who was the star of the show.
The way he started the game was brilliant - in the first five minutes of his first World Cup, in his first competitive match and against such big opponents, he made his intentions clear by turning, heading for goal and firing a great shot into the side netting.
I am hoping for more of the same from him against Uruguay and Hodgson would not be restricting him if he puts him on the right or even the left side - he can still do what he does out wide.
Looking at the way Uruguay defended against Costa Rica in their opening game, there are definitely ways Sterling's pace can exploit their weakness at the back.
It will not be easy. Joel Campbell impressed for Costa Rica and, if he is fit enough to play this time, Luis Suarez will obviously be a threat for Uruguay.

But neither team scared me that much and I am still confident that we can win our next two games and get into the last 16.
Hodgson has done what most people - including me - had asked for by playing Sterling and Sturridge together.
Now he needs to resolve the Rooney issue and get the best out of England's best player too.
Former England striker and BBC pundit Alan Shearer was talking to BBC Sport's Chris Bevan in Rio de Janeiro.