World Cup 2014: Confidence in England is high, says study
Last updated on .From the section 2014 Fifa World Cup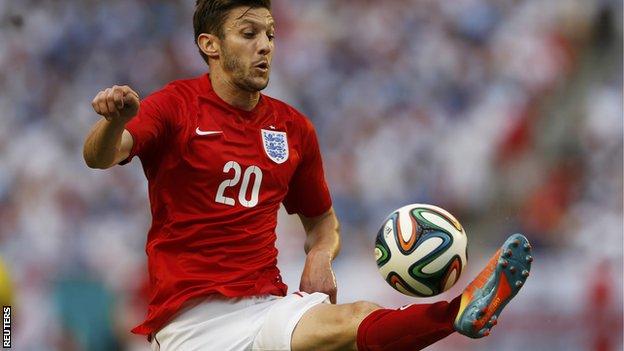 Confidence in the England team is high ahead of Saturday's opening World Cup match against Italy, according to a study of words relating to football.
Cambridge University Press is analysing media coverage during Brazil 2014 and scoring 'confidence levels' out of 100.
The score rises and falls dependent on the words used to describe England.
Confidence was measured at 38 after the 2-2 draw with Ecuador on 4 June and 40 following the 0-0 draw with Honduras on 8 June but rose to 77 a day later.
England's current rating is 70, going into the game in Manaus, according to the Cambridge Confidence Index.
Researchers have analysed and assessed millions of words from a wide range of media sources over the past two weeks.
Cambridge University Press's Dr Claire Dembry said: "The breadth of sources means we're able to give a unique insight into the mood surrounding the England team.
"It's interesting to see that the nation is in confident spirits ahead of the Italy game, despite some fairly lacklustre performances against Ecuador and Honduras."
Did you know?...
Cambridge University Press has more than 450 years of experience in language research and education and their work is renowned across the world
They have gathered data containing millions of words from more than 15,000 football-specific online sources, building these examples into a multi-million-word database of language relating to the World Cup
The researchers have identified hundreds of words and phrases as 'positive' and 'negative' indicators of confidence in the England team
They will track these indicators in online media throughout the tournament and will report on any words that move up or down significantly, and look at their context
Words such as "progress", "strong" and "joy" have increasingly been used by players, coaching staff and fans.
Midfielder Adam Lallana, 26, and 18-year-old Luke Shaw, who are both seeking to leave Southampton, have been described more positively than any other England player.
Neymar, who scored twice in Brazil's 3-1 victory over Croatia, was the most talked about player after the opening match.
"Controversial" was identified as the word of the day following the disputed penalty for Brazil's first goal and anti-World Cup protests in several host cities.
Cambridge will track positive and negative indicators throughout the tournament, in order to measure changes in the perceived confidence in the England team.