Rangers: Charles Green in fresh bid to take control
Last updated on .From the section Football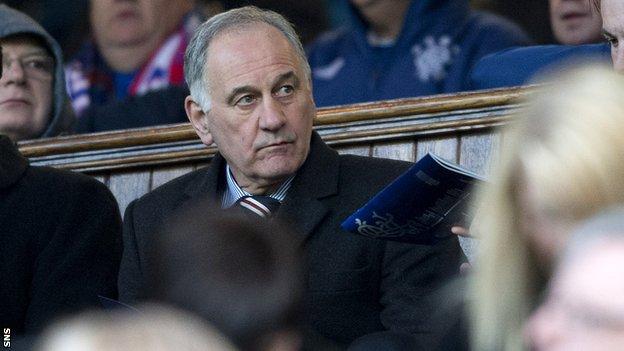 Former Rangers chief executive Charles Green is seeking financial support to launch a new bid for control of the Ibrox club, the BBC has learned.
Green led a consortium which bought Rangers' assets in May 2012 and then raised £22m from a share issue, but resigned from his post last year.
He returned for a short-lived spell as a consultant before selling his shareholding in the club.
However, he has spent the last week in talks with potential investors.
Rangers plan to launch a new share issue in a bid to raise in the region of £8m and if Green is to be successful he would need to convince existing shareholders to sell to a new consortium.
Green, who held the same position at Sheffield United, stood down from the chief executive's position citing the "negative publicity" surrounding an independent investigation, commissioned by the club's board, into allegations of undeclared dealings with former owner Craig Whyte.
That investigation consequently found no evidence of Whyte's claims that he was involved in the Green-led acquisition of Rangers two years ago.
On selling his shares to Sandy Easdale, chairman of Rangers' football board, in August 2013, Green said: "I want to make it clear that this means I will have no ongoing influence or financial interest at the club but I remain a fan and fervently hope that Rangers will soon be back at the top where they belong."