World Cup 2014: BBC pundits have their say on England defeat
By Chris Bevan
BBC Sport in Rio de Janeiro
Last updated on .From the section 2014 Fifa World Cup
Wayne Rooney's crucial second-half miss was the pivotal moment in England's defeat by Italy, according to former France striker Thierry Henry.
The Manchester United forward shot narrowly wide with England pressing for an equaliser with 30 minutes left to play.
Mario Balotelli's second-half header settled a tight match after Daniel Sturridge cancelled out Claudio Marchisio's opener.
Former England players Rio Ferdinand and Alan Shearer believe England have "big problems" in defence, while ex-Three Lions defender Danny Murphy says Roy Hodgson's side will be under "immense pressure" in their second match against Uruguay on Thursday.
BBC Sport's World Cup pundits give their verdict on England's performance, and where Roy Hodgson's side go from here in their bid to get out of Group D.
Rio Ferdinand - former England defender
"England might have lost but the performance of Raheem Sterling was amazing to see. He was the star man for us, the go-to guy.
"For a young guy like him to get a lot of responsibility - in terms of us giving him the ball and telling him to go out there and do something - bodes well for the future.
"Sterling was so direct and so positive every time we got the ball and he was a defender's nightmare. He is quick, skilful and wants to attack you.
"He got a shot away in the first minute of his first competitive game at his first World Cup. That's ridiculous, but he was like that all evening.
"There was lots of encouragement from our all-round attacking display but there were problems in our defence.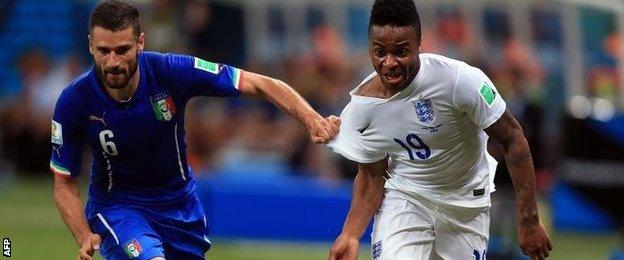 "For Italy's second goal, the communication was poor. Phil Jagielka had to call Leighton Baines back when Antonio Candreva got down England's left and try to delay the cross coming in.
"Baines could not do that and there was very little Gary Cahill could do at the far post to stop Mario Balotelli from knocking it in. He could maybe have got a bit tighter but sometimes you have to hold your hands up and say it was a great ball, and the defender could not do much more than he did."
Alan Shearer - ex-England striker
"Leighton Baines did not get much protection in front of him and, whether or not they targeted England's left-side as a weak link or not, the reason Italy won the game was because their right flank was their strong point.
"There are not too many people who would not have started with Baines in this game. He was let down by a lack of protection in front of him.
"When that happens, you are going to have a tough night. There are things to work on defensively because down that left-hand side we had big problems. Wayne Rooney was not enjoying his role there in the first half because he was having to work so hard.
"There were positives too, though. England had a go and that is what we wanted. We asked for the young guys to get their chance and they did - Raheem Sterling, Daniel Sturridge and Ross Barkley were all included and gave good performances.
"We got in good positions going forward but my only complaint tonight is that in the second half, and sometimes in the first, we lacked a killer instinct. There were balls going into the Italy box but nobody was making a move or getting on the end of them.
"It was that lack of quality in the final third that was our downfall. Rooney had his big chance and he failed to take it and, at this level in the World Cup, you only get one chance in the game and you have to score.
"Mario Balotelli got one chance for Italy, and scored the winner. Rooney has still not scored at a World Cup finals and he might not get a better chance than that."
Thierry Henry - former France striker
"Italy did not control the game but they won, and they are masters of that.
"The result comes down to that Wayne Rooney miss and Mario Balotelli taking his chance from a great cross into the box.
"There is a debate about whether England should play Rooney out on the left like they did but, when you look at that chance he missed, he is central, and in the best position that he can be.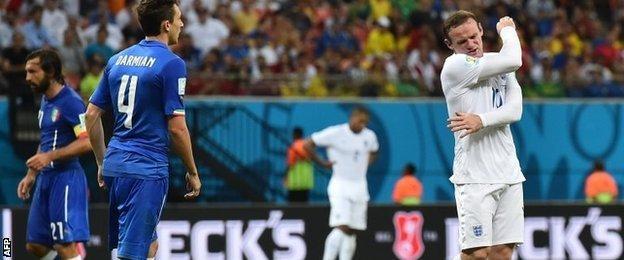 "I have missed chances like that, but Wayne will know that in a game like this one, he has to score there. He didn't, and that was the turning point for me.
"It was a disappointing defeat for England but remember they were not outplayed. Yes, Italy were keeping the ball at times but you could not say England did not play well either."
Danny Murphy - former England midfielder
"Antonio Candreva was superb and caused us all sorts of problems. We weren't sure where to pick him up, because he was drifting inside in the first half, then kept a bit of width second half.
"We struggled with him all evening but what was really impressive about him was his end product - his great cross for Mario Balotelli's winner and his intricate passing throughout the game.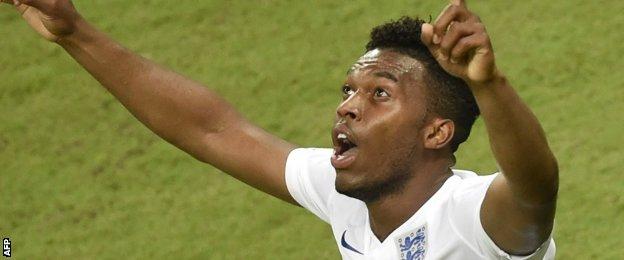 "But there were plenty of positives for England in defeat. Daniel Sturridge is off the mark at this World Cup and he was brilliant before he tired, which is understandable for a young player. Sterling was great too, on his competitive debut, and we created some great chances.
"The only worry now is that when you lose the first game it creates immense pressure on the second game, so it is a massive match now against Uruguay on Thursday.
"It is definitely not all doom and gloom for Roy Hodgson's side. I watched the Uruguay versus Costa Rica game earlier and, if we play with the same attacking verve we did against Italy and make that many chances in those two games, I think we will get out of this group."