World Cup 2014: England one of the best - Cesare Prandelli
Last updated on .From the section 2014 Fifa World Cup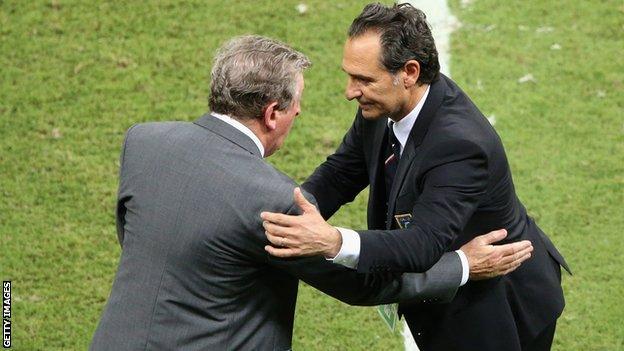 England have changed from relying on long balls to a skilful side with "one of the strongest attacks in the World Cup", says Italy boss Cesare Prandelli.
"It was an epic match and I feel that England is one of the strongest teams in the World Cup," said Prandelli.
"They have changed a lot, and I am so satisfied. We played a great game."
England were deservedly knocked out of Euro 2012 by Italy after a quarter-final penalty shootout, having struggled to create any chances of note.
But two years on, Roy Hodgson's youthful side created numerous opportunities in Manaus, with Wayne Rooney spurning a good chance to level when he pulled a shot wide at the near post.
"We don't have players who are as powerful as England's but we have technically skilled players, and in the first half we had better ball possession," said Prandelli.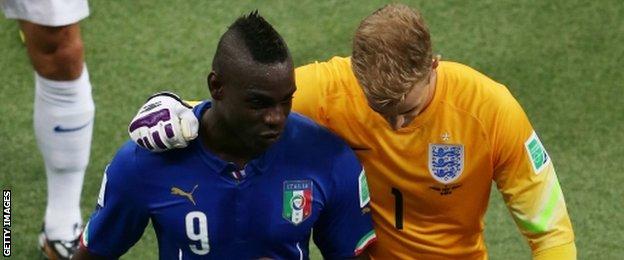 "Until just a few years ago, England relied on long balls but they are now a skilled team with excellent triangular passing."
Prandelli said it was "crazy" there were no time-outs or drink breaks in the intense heat and humidity of Manaus, but was pleased with how his team coped with the energy-sapping environment.
"We suffered, but the response of the players to the conditions was extraordinary," he said.
Victory put Italy second in Group D after Costa Rica surprisingly beat Uruguay earlier on Saturday.
Match-winner Balotelli said: "Italy suffer, they always suffer, but the important thing is to win.
"Now we have to keep our feet on the ground and just focus on each game that comes."
For the best of BBC Sport's in-depth content and analysis, go to our features and video page.