Defending cost Scotland against Sweden, says Anna Signeul
Last updated on .From the section Football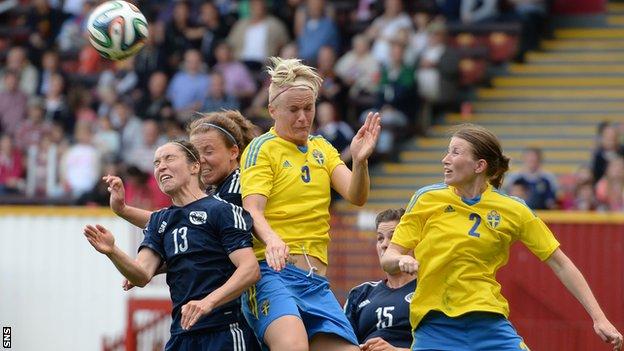 Coach Anna Signeul rued Scotland's defending at corners in the Women's World Cup qualifying defeat by Sweden.
The Swedes twice scored from set pieces in the first half to lead 2-1 at the break and Kosovare Asllani added her second of the match after the interval.
"That's very disappointing," Signeul told BBC Scotland. "We knew that they are strong on corners, they are very difficult to defend.
"We played some really, really good football and we should be proud."
Kim Little's penalty levelled the score for Scotland in the first half and Signeul was encouraged that the hosts created several openings against the top seeds.
"We created some great chances but we had to run so much because they are so good," said the Swede.
"We weren't just sitting back and defending, we were actually trying to attack and that also takes energy.
"We got tired in the second half. Psychologically, it was really tough to lose that third goal like we did [a mistake by Scotland goalkeeper Gemma Fay]. It was a disappointing goal to lose."
Defeat ended Scotland's 100% record in the group as Sweden continued their perfect record of wins. Both sides now sit on 18 points in Group 4, with the Swedes having played a game fewer.
They will meet again in their final group fixture in Gothenburg in September.
"We will be stronger and we will be fitter," said Signeul.
"It takes a long time. These players and this Swedish team have been on this level for many, many years. We'll try to be able to compete at this level in September.
"With the improvement we've had since the autumn and even the improvement from April, if we take strides like this all the time, we are there soon. We just need to continue to believe in what we do and have faith."
Sweden coach Pia Sundhage felt the visitors had won "a tactical game" at Motherwell's Fir Park.
"We were a little bit weak on our left side but then we changed the tactics a little bit and I'm very proud of the players and the way they performed," she said.
"I'm very proud of the fact that we can change, because that's very important when you play different opponents."
Northern Ireland in Belfast are next up for Scotland on Thursday.
"We're absolutely up for a really good performance, to score a lot of goals and put even more pressure on Sweden," added Signeul.
And Little urged her team-mates to be focused on the match at Cliftonville's Solitude ground.
"We need to win that if [the return game against Sweden] is to mean anything," said the Seattle Reign midfielder.
"You lose in football, you can't win all the time so we go in positive to the next game."