World Cup 2014: Cristiano Ronaldo fit to face Germany
By David Ornstein
BBC Sport in Salvador
Last updated on .From the section 2014 Fifa World Cup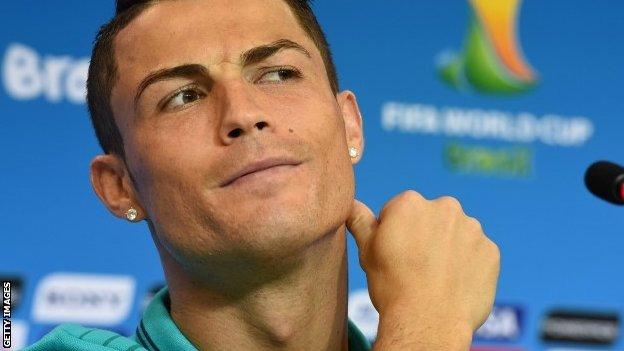 Cristiano Ronaldo declared himself fit to spearhead Portugal's World Cup campaign, but does not feel pressure to reproduce his form at club level.
The 29-year-old dismissed suggestions he must excel in Brazil to cap a career that has not reached the heights on the international stage.
"I don't think I have to show anyone anything," he said.
"If we look at my statistics and resume you'll see that."
Ronaldo will captain Portugal against Germany in Monday's opening Group G match in Salvador.
He is their all-time leading scorer but has registered just two goals in 10 World Cup matches, that despite netting 252 in 246 games for Real Madrid.
The forward also has two Champions League titles and twice won the Ballon D'Or.
"I don't have to demonstrate anything," argued Ronaldo, who recently scored 11 goals in seven internationals, including a hat-trick against Sweden that secured his side's qualification. "Not now or before or after. What I have to do is continue my career which has been great so far.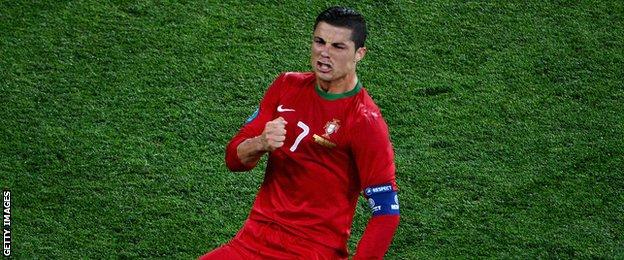 "I believe one player is not a team, I'm here in the national team to help, I'm an additional player, I can make a difference in some of the games, but I can't carry the whole team on my back.
"I'm just someone who wants to help to become a champion. We're not the favourite or in the group of favourites, which is something which is good for us."
Ronaldo took a full part in the 15 minutes of Portugal's training session that was open to the media inside Arena Fonte Nova.
There was strapping below his left kneecap, but he appeared to be comfortable and with a full range of movement.
Concern was raised when the former Manchester United player arrived more than an hour late for his scheduled news conference, but he quickly dismissed any worries.
"I've been practising now for some days and if I'm doing that it's because I'm feeling well," he added. "Obviously I would like to not have any pain but that's impossible.
"Since I've played football there's not been one single moment when I played a match without any pain whatsoever. That's just part of it, it's the burden of my work.
"If I'm not ready, if I'm not feeling well, I'm the first to tell the coach I can't play.
"The first thing that is important is the health of the players. If I feel anything during the match, which I'm sure I won't, I'll be the first to say, as I know my career will still last a few years and I'm never going to put at risk my career for one match or for the World Cup.
"Obviously this is one of the most important championships but I come first, and then football."
For the best of BBC Sport's in-depth content and analysis, go to our features and video page.