England 2018 World Cup bid: Dinner payment investigated

By Richard Conway
BBC Radio 5 live sports news correspondent
Last updated on .From the section Football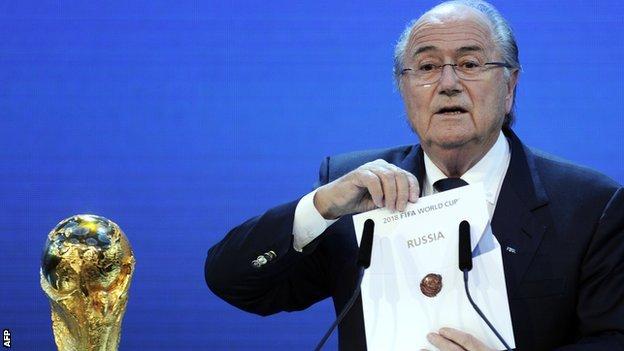 Fifa's ethics investigator Michael Garcia is looking into a payment from England's 2018 World Cup bid to fund a dinner for Caribbean football officials - according to reports.
The Football Association declined to comment on the matter.
Garcia's report into how the 2018 and 2022 World Cups were awarded is due to be submitted next month.
The American lawyer's inquiry comes amid corruption allegations around the bidding process, revealed by the Sunday Times.
Details of the £35,000 payment were made public in 2010.
England 2018 said at the time it would enable the Caribbean to put their own resources into football-related initiatives instead.
The dinner was believed to be part of the FA's attempt to court key voters, specifically in this instance the former Fifa vice-president Jack Warner.
In February 2010, speaking ahead of the Port of Spain event for 160 guests, Warner said it was "money well spent" to allow the FA to "speak to all 32 CFU countries" and for him to see who his membership thought should host the World Cup.
He added: "And in light of the harsh economic conditions we are battling in the region the FA has agreed to formally partner with us to host the dinner. It is an offer which I have agreed to."
Bid sources also say they expect Michael Garcia will also be analysing a host of other activities undertaken by the countries that attempted to win the 2018 and 2022 World Cups, including the arrangement of friendly matches.
An agreed friendly with Thailand was cancelled after England's bid crashed out of the 2018 ballot in the first round with just two votes.