Lionel Messi had first game jitters for Argentina World Cup match
Last updated on .From the section 2014 Fifa World Cup
Argentina star Lionel Messi admitted to nerves in his side's victory over Bosnia-Hercegovina during their first game of the 2014 World Cup in Brazil.
The 26-year-old struggled to make an impact before a sublime effort put his side two up as they went on to win 2-1.
"It's the first game, I was anxious, nervous," said Messi.
"It was important to start with a win. We've got to improve certain things, but it was important to start with the three points."
Argentina took the lead through a Sead Kolasinac own goal which came from a Messi left-wing free-kick, although Alejandro Sabella's side stuttered through the first half.
But La Albiceleste captain Messi sparked his performance and that of his side to life when he played a one-two with Gonzalo Higuain, went past two defenders and drilled in a low shot.
It was his second goal in nine World Cup games, and first in 623 minutes since his effort against Serbia and Montenegro at the 2006 tournament.
"I wanted to release all the energy from other times when things didn't go right [with the national team]," said Messi. "It's always a pleasure to score with the national team."
He added: "We had a great second half. We had the ball much more, created several opportunities and that's what we have to continue to do."
Sabella's half-time switch in formation from 3-5-2 to 4-3-3 played a pivotal role in his side's improvement.
"As strikers, we prefer that system as it gives us more attacking opportunities and if we don't use that system we suffer a bit," said Messi.
"I was often on my own and so was Kun [Sergio Aguero] and it was very difficult, so there are things to be improved on."
Argentina, who are aiming to win a third World Cup, play Iran on 21 June in their next game.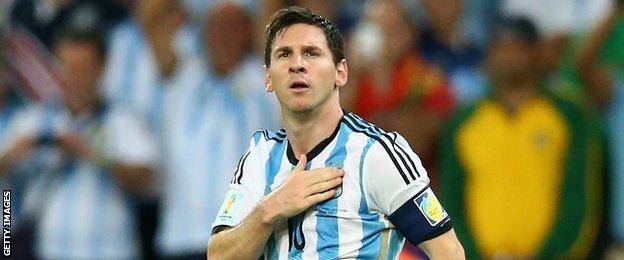 "On balance I would give the performance against Bosnia-Hercegovina a six. We need to improve and part of that is in my hands - it is up to me," said Sabella.
"The changes at half-time just produced this improvement. They were playing better together and there was more support around Messi.
"Once Messi received the ball there was better follow-up and better support.
"I think that, whatever happens in this World Cup, he is among the best players in the history of football."
Bosnia were making their World Cup debut and coach Safet Susic believes his side coped well after letting in an early goal.
"We are realistic people, and our goal was to put as much resistance as possible to one of the favourites to win the title, and this is what we have done," said Susic.
"I am satisfied with what I saw, especially after we had this misfortune to concede an own goal in the first couple of minutes.
"It is a huge satisfaction to take part for the first time in the World Cup and play against a great team and one of the best players in the world - and not only of today but of all time."