World Cup 2014: Luis Suarez yet to prove greatness - Roy Hodgson
Last updated on .From the section 2014 Fifa World Cup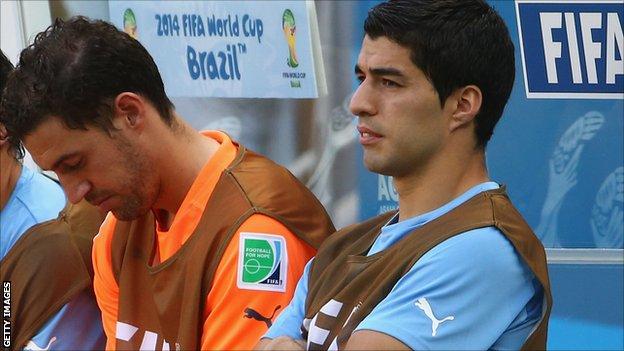 England boss Roy Hodgson says Liverpool striker Luis Suarez has the ability to be considered among the world's best but must prove it at the World Cup.
Uruguay's Suarez, 27, is set to recover from a knee injury in time to face England in Thursday's Group D match.
"You can be a great player in your league but to be recognised as one of the all-time greats you have got to do it at the World Cup," said Hodgson.
"He has got the potential. He is a wonderful footballer."
The two nations meet in Sao Paulo on Thursday in a game where the losing side is likely to go out of the World Cup.
Suarez, who scored 31 times last season, missed his side's opening 3-1 defeat to Costa Rica.
His form for Liverpool last term almost inspired them to their first league title in 24 years and he is seen a key to Uruguay's hopes of progressing in the tournament.
"If you are really going to put him up there with (Diego) Maradona, Pele, (Franz) Beckenbauer and (Johan) Cruyff and (Andrea) Pirlo, this is the stage you have got to do it on," added Hodgson, whose England side lost their opening game 2-1 to Italy.