Hereford United due in court over another winding-up petition
Last updated on .From the section Hereford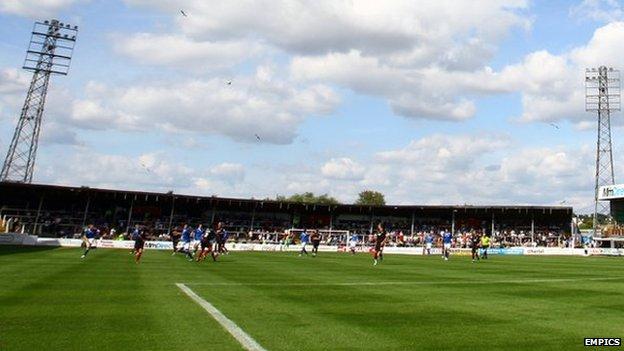 Hereford United still face two winding-up petitions despite having a case against them dismissed in court in London on Monday.
The club were on the Companies Court Winding Up List of cases to be heard at the Royal Courts of Justice, the latest winding-up threat served by Revenue and Customs (HMRC) over unpaid tax.
A court spokesman said that the case had been "dismissed by the registrar".
BBC Hereford & Worcester report that the case is to be resubmitted by HMRC.
It appears as though the winding-up petition brought against the former Conference Premier side was not advertised properly prior to the hearing.
This is the third time that the club have been summoned to appear at the Royal Courts of Justice in The Strand to face winding-up petitions from HMRC since the turn of the year.
In the previous two cases the money was found to settle the debt before the case was due to be heard, the second of them following Bulls fans' heartening fund-raising efforts.
But the club, expelled from the Conference last week after failing to pay their football creditors, have changed hands since then - and are now under the control of London businessman Tommy Agombar.
United had a further case, brought by former manager Martin Foyle over unpaid wages, adjourned for 28 days on 2 June.
Agombar met with Herefordshire County Council officials on Monday afternoon, following a call by Jesse Norman, the MP for Hereford and south Herefordshire, to defer any decision on potential changes to the leases on Hereford United's Edgar Street stadium for at least a month.
Norman told BBC Hereford and Worcester that is vital key issues are established before any major decisions are taken.
Norman is pressing the Football Association to determine whether Agombar would pass their 'officers and directors' credentials, formerly known as the 'fit and proper persons test'.