World Cup 2014: Omens are with Ghana, says Gyan
Last updated on .From the section Football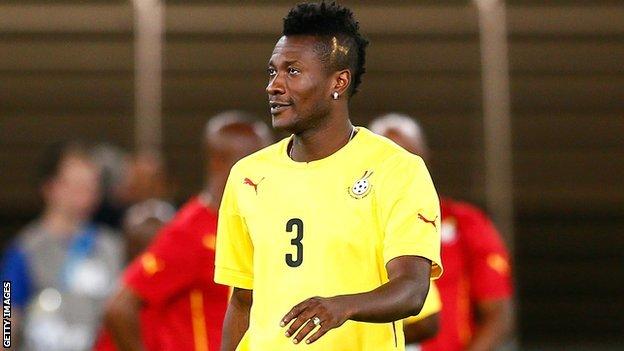 Ghana captain Asamoah Gyan believes two previous World Cup wins against United States will help them when the sides meet in Monday's Group G match.
The countries go head to head for the third consecutive World Cup, with Ghana having won 2-1 in both 2006 and 2010.
Gyan said: "I think it is a good omen for us that we have never lost against United States at the World Cup.
"That history is going to make the game very, very interesting. We are well prepared mentally and physically."
After the Black Stars shone in South Africa four years ago - narrowly failing to become the first African side to reach the semi-finals as they lost to Uruguay on penalties - expectations in Ghana are high that the team can do even better this time.
But while Ghanaians are confident, the rest of the world still sees Kwesi Appiah's side as outsiders in a group that also contains Germany and Portugal.
"We have been rated as underdogs, even though we did well last time," said Gyan. "We are in a tough group but football is not based on names, it is based on teamwork.
"It is up to us to prove everybody wrong. All the players will fight and we have quality - we have to be committed and be together to make sure we achieve.
"We are here to shock the world. It is not going to be easy but that is our dream. And I believe we can do it."