AFC Wimbledon hope for Plough Lane move in 2017 - Samuelson
Last updated on .From the section Wimbledon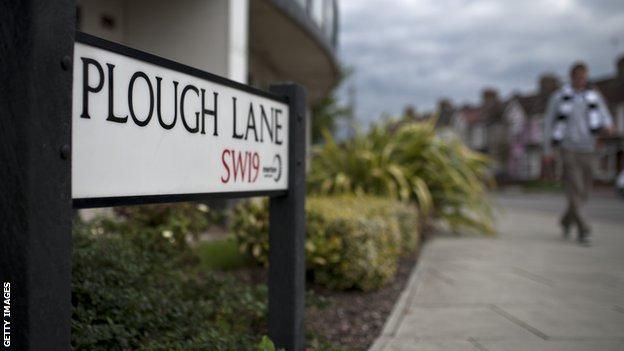 AFC Wimbledon chief executive Erik Samuelson hopes the club will be able to build a new stadium at Plough Lane in time for the 2017-18 campaign.
"There are several challenges to overcome," he told BBC London 94.9.
"I'm hopeful we'd open up for business in 2017. I'm optimistic this can be done but we have still got work to do."
He added: "Exactly when we start building it I don't mind, as long as it's ready by then.
"We've just announced a series of exhibitions for people who live near the stadium to look at the designs as part of a formal consultation before we move to a planning application, which will be a couple of months away."
The League Two side are proposing the construction of an initial 11,000-capacity stadium, which could later be expanded to 20,000, on the site of Wimbledon Greyhound Stadium.
The construction of 600 homes in conjunction with Galliard Homes is also a part of their redevelopment plans.
A new ground at Plough Lane in Merton would mark a return to AFC Wimbledon's spiritual home.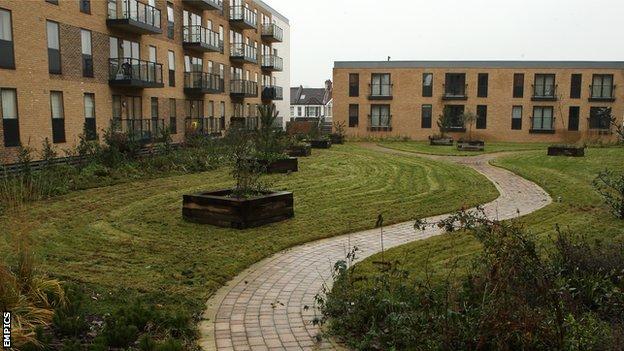 The original Wimbledon FC were forced to leave Plough Lane in 1991 following the publication of the Taylor Report which, in the wake of the Hillsborough disaster, recommended that all top-flight sides should play in all-seater stadiums.
The club shared Selhurst Park with Crystal Palace until 2003, when they moved to Milton Keynes, having been given permission to relocate by an independent commission a year earlier.
AFC Wimbledon were formed in 2002 in response to the relocation and have played all their home games at Kingsmeadow, also home to Kingstonian, taking over the leasehold of the ground in March 2003.
"A new stadium at Plough Lane would mean a whole host of things from the trivial to the massive," Samuelson said.
"If you'd said to any of our fans on 28 May 2002 'don't worry - 15 years from now you'll be in the Football League and opening a brand new stadium in Plough Lane' they'd have said you're absolutely nutty.
"It's a distance away, as I try to manage people's expectations, but it is within sight. What an achievement that would be, and what a story."
West London side Brentford received planning permission to build a new stadium last December following a long-running campaign and Samuelson says Wimbledon have been keeping an eye on developments elsewhere in the capital.
"Brentford have done theirs very well," Samuelson said.
"I talk to them from time to time to compare notes and see how things are going.
"They have been extremely helpful and we are very grateful for that. It demonstrates it can be done and we'd love to be the next ones."