World Cup 2014: Golden goals, golf carts and other innovations
By Mark Mitchener
BBC Sport
Last updated on .From the section 2014 Fifa World Cup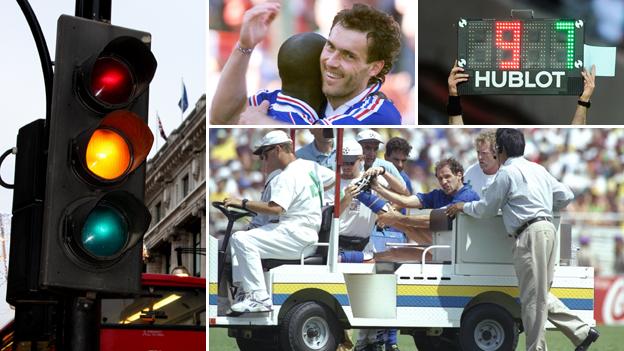 The 2014 World Cup has seen innovations such as goalline technology and vanishing spray introduced to football's showpiece global event for the first time.
While those developments appear set to stay, what other innovations have previous World Cups witnessed - and were they all a success?
Red and yellow cards (from 1970)
Now as commonplace in a referee's equipment as a whistle, red and yellow cards were the brainchild of English referee Ken Aston, who officiated in the notorious 1962 World Cup game between Chile and Italy which became known as the Battle of Santiago, as well as the 1963 FA Cup final.
Aston was placed in charge of referees for the 1966 World Cup in England, when there was confusion after the hosts' stormy quarter-final against Argentina over which players had been cautioned, and Argentina skipper Antonio Rattin refused to leave the pitch after being sent off.
Driving in his car, and halted by a set of traffic lights on Kensington High Street, Aston had his idea: "The traffic light turned red. I thought, 'Yellow, take it easy; red, stop, you're off'."
With language barriers no longer a problem, red and yellow cards were introduced at the 1970 World Cup and have been adopted worldwide since, with variants appearing in many other sports.
What happened next? Five yellow cards were shown by German referee Kurt Tschenscher in the opening game of the 1970 World Cup between Mexico and the USSR, but not a single red card was shown at the tournament.
On 14 June 1974, Chile's Carlos Caszely was the first man to be shown a red card in a World Cup, after picking up a second caution.
English referee Graham Poll famously erred at the 2006 tournament, showing Croatia defender Josip Simunic three yellow cards before brandishing a red.
Substitutions (from 1970)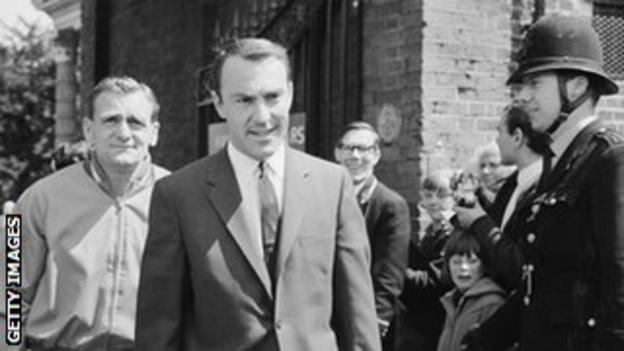 As Geoff Hurst scored his hat-trick for England in the 1966 final, the man he replaced, Jimmy Greaves, was watching from the sidelines, dressed in a suit and tie, because substitutes were not permitted at the World Cup until 1970.
Keith Peacock of Charlton was the first substitute used in the English Football League on 21 August 1965, but at the World Cup, that honour went to Soviet forward Anatoliy Puzach in the opening game of 1970 against Mexico.
What happened next? Until 1990, teams were able to name five substitutes, of whom two could be used.
From 1994 onwards, any members of the squad - except suspended players - were eligible to come off the bench, with the 1994 limit of two outfield subs, plus a goalkeeper, superseded by the standard three-substitution rule since 1998.
Golden goals (1998-2002)
With teams increasingly cagey in extra time of drawn knockout games, and some seemingly happy to chance their arm in a penalty shootout, the 'golden goal' immediately won the game as soon as either side scored in extra time.
From 1993, it was trialled in minor competitions such as the Auto Windscreens Shield in England, when a golden goal twice decided the final (in 1995 and 1998), as it did in the 1996 and 2000 European Championship finals, and the 2001 Uefa Cup final.
Four World Cup ties at two tournaments were settled by golden goals - Laurent Blanc in 1998, and Henri Camara, Ahn Jung-Hwan and Ilhan Mansiz in 2002.
Far from promoting attacking football, at times it seemed to have the reverse effect as teams played conservatively because they did not want to concede.
What happened next? A variation, the 'silver goal' - whereby a knockout game would stop after the first period of extra time if one side were in front - was used at Euro 2004, but both golden and silver goals were discontinued that year.
Italian side Perugia attempted to sack South Korea's Ahn Jung-Hwan after his golden goal knocked Italy out of the 2002 World Cup, while the player responded by refusing to turn up for pre-season training.
Penalty shootouts (from 1978)
Replays - or coin tosses or the drawing of lots - were traditionally the method used to separate sides level after extra time, with Italy beating Yugoslavia in the 1968 European Championship final replay, two days after the final.
Penalty shootouts were used in club competitions such as the European Cup from 1970 (although not in England's FA Cup until 1991), and first appeared at a major tournament when Czechoslovakia overcame West Germany in the Euro 76 final.
Adopted for the 1978 tournament, a shootout was not required at a World Cup until 1982, when West Germany knocked France out at the semi-final stage.
What happened next? A World Cup match has been settled on penalties on 22 occasions, including the 1994 and 2006 finals.
Germany (if you include West Germany) are the most successful team, with four wins and no defeats, while England are the only team to have lost three World Cup shootouts and not won one.
Belgium, Paraguay and South Korea all hold a 100% record in shootouts, scoring five out of five kicks. Switzerland are the only country to miss every penalty they have taken in a shootout. They were beaten 3-0 by Ukraine in 2006.
Three points for a win (from 1994)
Three (rather than two) points for a win were introduced into the English Football League in 1981 in a bid to encourage more attacking play.
It gradually made its way into most other major leagues over the next decade and a half, but was not adopted at a World Cup until 1994, after negative tactics marred the 1990 tournament.
What happened next? It made no difference in 1994, 2002 or 2006, when the same teams would have qualified from the group stage under two points for a win.
However, in 1998, Paraguay would have finished top of Group D ahead of Nigeria, which would have given them different opposition in the second round, when both teams bowed out.
In 2010, New Zealand - undefeated after drawing all three group games - would have qualified for the second round in place of Slovakia, who lost to the Netherlands in round two.
Golf carts for injured players (1994)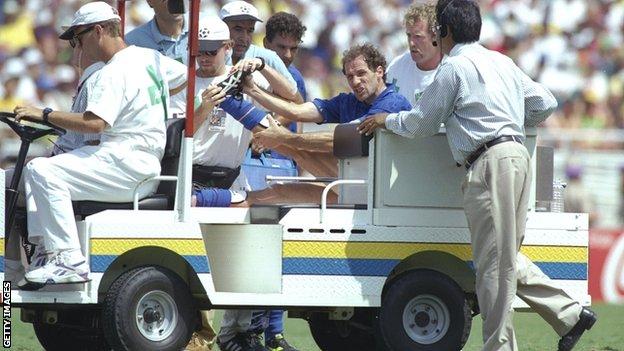 One of a raft of innovations for the 1994 World Cup in the United States was that, rather than being treated on the pitch or carried off on a stretcher, players would be driven off by an electric cart to receive medical treatment.
The vehicles used - compared to golf buggies or milk floats - added a slightly comedic air to a colourful World Cup.
What happened next? Golf carts have not reappeared at any subsequent World Cups, although some occasional examples remain, such as at English club side Reading.
As recently as last summer, Argentina midfielder Javier Mascherano was sent off for kicking the driver of an injury cart as he was wheeled off during a World Cup qualifier against Ecuador.
For the best of BBC Sport's in-depth content and analysis, go to our features and video page.