World Cup 2014: Daniel Sturridge ready for 'do or die' game

By Phil McNulty
Chief football writer in Rio de Janeiro
Last updated on .From the section 2014 Fifa World Cup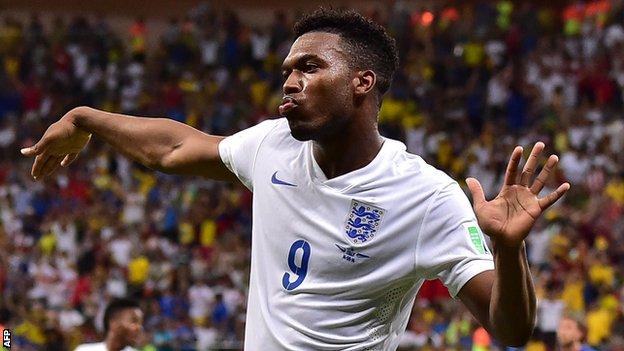 England striker Daniel Sturridge is prepared to do almost anything to avoid an early World Cup exit in Thursday's "do or die" meeting with Uruguay.
Sturridge will be up against Liverpool team-mate Luis Suarez, who infamously handled on the line in the closing seconds as Uruguay beat Ghana on penalties in South Africa in 2010.
While he insists he will stay within the rules, Sturridge said: "I'm going to do anything in my power to win.
"I'm talking anything. I'm serious."
Sturridge, 24, said he was feeling "hungry and confident" after scoring in England's 2-1 defeat by Italy on Saturday.
He added: "I'm prepared to do anything to win this next game. It's do or die. It's a World Cup."
Liverpool team-mate Suarez missed Uruguay's 3-1 defeat by Costa Rica following his recovery from a knee operation on 22 May but is ready to face England.
"I'm 100%, otherwise I wouldn't be here," he said. "I feel in good condition. I never thought I would miss the World Cup."
Sturridge has not been in touch with his club-mate, saying his focus is solely on Thursday's game in Sao Paulo.
He added that he would be "devastated" to exit the tournament at the group stage and said the England players would "work our socks off more than we've ever done before".
The former Chelsea player added: "I'm not saying I'm going to dive or do anything that's not within the laws of the game, but I will do anything - like my team-mates - to win this game."
In a reference to the 2010 World Cup, when Suarez denied quarter-final opponents Ghana a match-winning goal by stopping Dominic Adiyiah's header with his hand, Sturridge said he would never do the same thing.
"It's not in my nature," he said. "Within the rules of the game, I'll do anything, just like every Uruguayan player will. They're hungry and want to go through and we want to go through."
Last season with Liverpool (Premier League)

Daniel Sturridge, 24

Luis Suarez, 27

Appearances: 29

Appearances: 33

Goals: 21

Goals: 31

Assists: 7

Assists: 12
Sturridge insisted England want to maintain their reputation for fair play.
"We're an honest country and go about our business in an honest way," he said. "No disrespect to other countries, but we play within the laws of the game. We don't bend the rules. We play by the book.
"That's how I was brought up. We don't like to break the rules. We don't like to cheat to win."
England team-mate Danny Welbeck, meanwhile, agreed with comments from BBC Sport World Cup pundit Rio Ferdinand, a former Manchester United team-mate, that he should take more risks in front of goal.
Welbeck, 23, said: "I take what Rio says on board. He's seen me grow up and develop from a young kid, from 13. He's helped me a lot as a footballer. If he's telling me to take more risks, I will take more risks."
He said he had spoken to Ferdinand before and after the game against Italy, adding: "He just wants me to be the best I can. He says I need to be a bit more positive at times."
For the best of BBC Sport's in-depth content and analysis, go to our features and video page.