World Cup 2014: Germany coach Joachim Low hails clinical finishing
Last updated on .From the section 2014 Fifa World Cup
Germany coach Joachim Low hailed his side's "clinical" finishing after the 4-0 win over Portugal in their opening World Cup game in Group G.
A Thomas Muller hat-trick and Mats Hummels' header helped Low's side to beat a Portugal team who had Pepe sent off in the first half.
"It was an excellent first match. We had no option but to win," said Low.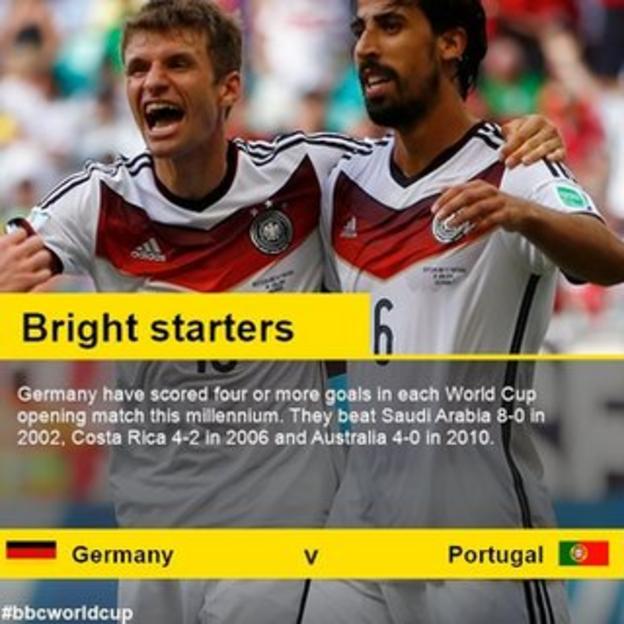 "We were clinical in finishing our chances. We had four goals from about six chances."
Portugal forward Cristiano Ronaldo, the world player of the year, had an early shot saved but rarely threatened the Germany goal.
"The team played well and didn't let Portugal have many chances," added Low.
"We played at high pace in the first half to get our chances.
"It's important to prevent Ronaldo from getting a run going because he's very dangerous then."
Pepe was sent off for a headbutt on Muller as the Germany forward was sitting on the ground following a jostle for possession between the two players.
"I just felt a blow from Pepe's fist, but I can't really remember much of what happened after," said Muller.
Muller won the won the Golden Boot at the 2010 Fifa World Cup in South Africa and has now scored eight World Cup goals.
"I've been involved in the last three major tournaments so I'm used to the pressure," said the 24-year-old.
"But to score three goals in one game - that's pretty amazing and the goals just got better and better.
"It's fantastic but the merit also goes to the rest of the team."
For the best of BBC Sport's in-depth content and analysis, go to our features and video page.