World Cup 2014: Juninho - How Brazil learned from London 2012

By Juninho
World Cup-winning former Brazil midfielder
Last updated on .From the section 2014 Fifa World Cup
Brazil's World Cup will not get any easier when they play Mexico on Tuesday, but the most important thing is they have got the tears from their first game out of the way.
The first match for Brazil at any World Cup is always very difficult, with all the emotion and expectation that is on us to succeed.
That is why you saw some of the Brazil players crying when the national anthem was played before the win against Croatia.
In 2002, when we won the tournament with current manager Luiz Felipe Scolari in charge, I played in our opening match against Turkey and definitely felt the pressure. Just like this year, we started badly and had to come from behind to win.
When you wear the Brazil shirt, there is pressure all the time - even in friendlies. You have to win every game. But the kind of adrenalin I was feeling was something else. It was difficult to focus on the match.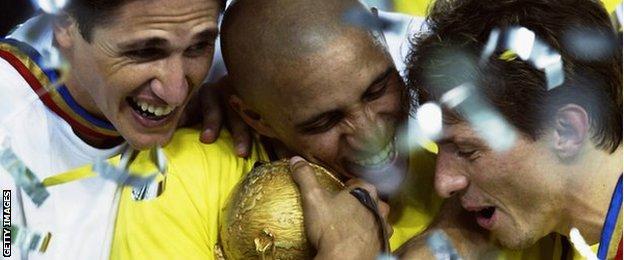 And that World Cup was in South Korea and Japan, not Brazil. This time, our players are playing in front of their own people and I know they feel they are carrying a lot more responsibility on their shoulders.
You saw it when the anthem was played. They were too emotional and you saw the effect of that in the first few minutes of the game, until Croatia scored. After that, they got their concentration back.
Lessons learned from London 2012
Back in 2002, I found that the second game at a World Cup is different. I think the Brazil players will be a lot calmer against Mexico.
That does not mean it will be easy, though, because the past six games between the two sides have been very tight and tough, with Mexico winning three of them. Go back further, and Brazil's record is even worse.
Brazil record vs Mexico in last 15 meetings

WON

DRAWN

LOST

FOR

AGAINST

6

2

7

22

17

Full internationals only
I am confident we will win this time but another defeat by a Mexico side at the London Olympics in 2012 played an important role in the development of this Brazil team.
Back then Mano Menezes was in charge of the national team, and used those Olympics as part of his competitive build-up to this tournament.
It was a big deal - star players such as Neymar, Hulk and Oscar, among others, were all involved and a gold medal is the only major football prize that Brazil have not won.
Mexico beat us 2-1 in the final and we were not playing well. That defeat changed the attitude of many of the players, but also led to a change in the manager.
Menezes got a lot of criticism before being sacked in November of that year - leading to the return of Scolari as Brazil boss after a 10-year absence.

Scolari brings the squad together
When I played under Scolari, he always tried to take the pressure off his players, and he will definitely be doing that at this World Cup.
He is a very straight-up guy and always tells you exactly what he is feeling, and whether you are in or out of his team. That is important for the players to know.
At the 2002 World Cup, we trusted him and he built a squad like a big family group. It meant we were all looking out for each other, and made the group feel stronger.
With Carlos Alberto Parreira, who was manager when Brazil won the 1994 World Cup, as Scolari's assistant, they have unbelievable experience at this level and they will make each player feel they have all of their experience on their side.
The pair of them will be telling their players just to play and let them worry about everything else.
That is important because most members of the Brazil squad have experience in the Champions League but not too much in the national team, at this level.

Scolari has brought his own players into the set-up too, and Luiz Gustavo is a great example of how well that has worked out.
Before he played in the Confederations Cup victory last year, Gustavo was not well-known here - I think he went to Europe too early when he moved to Germany with Hoffenheim at the age of 20 in 2007.
He is still the quiet man of the squad but since getting into the Brazil team he has been very important for us, as a disciplined defensive midfielder. He showed that again against Croatia.
In that way he is exactly like Dunga was when Brazil won the World Cup in 1994. In Brazil we don't see him as a marker player like Dunga or Mauro Silva, but his best quality is his ability to win the ball back when we lose it.
He is clever as well, though. He is able to drop back into defence to become a third centre-back like Edmilson did behind me in 2002, and also starts attacks with the quality of his passing.
Scolari was able to bring him into his team because he knew about him - another of his strengths is that he knows everything about every Brazilian player based in Brazil or elsewhere.
Brazil vs Croatia

Brazilian players' average position

Luiz Gustavo touches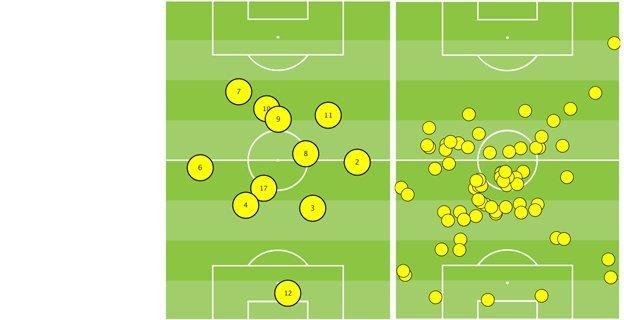 Key:

Luiz Gustavo

17: Luiz Gustavo

Minutes: 90

8: Paulinho

Touches: 74

4: David Luiz

Clearances: 3

3: Thiago Silva

Interceptions: 5

2: Dani Alves

Passes: 56

6: Marcelo

Accuracy: 96.% (best in game)

Stats: Opta
Play for Brazil, not yourself
The other thing Scolari always did in my time playing for Brazil was to make sure you realised the significance of representing your country.
He has done it again with this squad. He had to, because sometimes a player based at a big club in Europe might not remember the importance of wearing a Brazil shirt.
So, the players understand how much winning this World Cup means, but there is no added pressure on them because of the protests we have seen against the tournament being held here.
That is a separate issue. Of course, the government have done a lot of things that the Brazilian people are unhappy with, myself included.
They did not need to build so many expensive new stadiums. It was unnecessary to spend that much and, although they said they would not be funded by public money, in the end a lot of it was.
People are upset and are showing it, but even if Brazil lose, they will not be angry with the national team - only with the government.
Juninho was talking to BBC Sport's Chris Bevan in Rio de Janeiro