World Cup 2014: England will see best of Leighton Baines v Uruguay
Last updated on .From the section 2014 Fifa World Cup

Leighton Baines got some stick for his performance against Italy but I think he will show against Uruguay why he is England's best left-back.
It was not Baines' fault that Italy overloaded us down his flank in the first half, which is when we struggled defensively down the left, but that did not stop some people asking afterwards why Ashley Cole had been overlooked by England boss Roy Hodgson.
Cole was possibly the best left-back in the world for a 10-year period but that time has gone. Hodgson is building a team with future tournaments in mind which is why Everton's Baines and Southampton teenager Luke Shaw got the nod.

The criticism will not have bothered Baines, though.
He is somebody I know well from our time together at Everton and I think he will grow into this tournament from now on - starting with him playing a key attacking role in Sao Paulo on Thursday.
The only way is attack for England
Baines will not have an easy time of it trying to deal with the power of Uruguay's Edinson Cavani, a centre-forward who plays on the wing.
But I have seen him deal with big strikers before and, crucially, he is a lot quicker than Cavani. That means he can cause more problems for Cavani by trying to get forward and joining England's attack.
Leighton Baines against Italy

Total touches:

61

Touches in opposition half:

35

Crosses:

4

Successful crosses:

0

Stats: Opta
That is definitely where Baines' strength is - getting down his flank and putting crosses in. He will be looking to get forward far more than he did against Italy and overlap Danny Welbeck.
That will leave space behind him but Steven Gerrard and Jordan Henderson can help him by picking up Cavani who, like Cristian Rodriguez on the opposite flank, tends to cut inside more than stay wide anyway.
In terms of personnel, I would expect Hodgson to stick with the same team that faced Italy, but put Rooney back into his best position which is at number 10.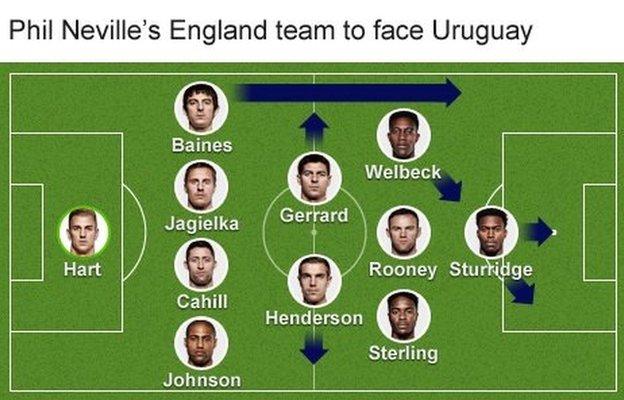 For England, it is about keeping up the momentum that they started in their opening match.
Yes, it ended in defeat but the main thing I thought after watching that game was that there is more to come.
England have come into this tournament with a philosophy of playing positive, attacking football and they are not going to revert to a cautious style now.
Instead, we have a clear attacking identity. A lot of England fans I have spoken to while I have been travelling around Brazil say we should have put Rickie Lambert on up front for the last half hour against Italy.
I understand why, but how many times in the past have you seen English teams bring a big centre-forward on late on when they are chasing a game and revert to direct tactics?
Against Italy, it was great to see Ross Barkley, Jack Wilshere and Adam Lallana come on - three versatile players who fitted into the system that England started the game with.
The final ball was the only thing that was really lacking going forward, but I would add a note of caution that England need to be more switched on defensively too - and work out problems like the ones Baines was facing quicker than they did.
England will not set up just to stop Suarez

Uruguay had a shocker in their opening World Cup game against Costa Rica and, if he plays, Luis Suarez cannot be fully fit after knee surgery, but England's next opponents are still very dangerous.
If they are as open as they were on that occasion, then our front four will have a field day but I don't think they can play as badly again, and having Suarez available - whatever his condition - will have a massive effect on them.
He is their talisman but, just as he did not man-mark Andrea Pirlo in the Italy game, Hodgson will not try to deal with Suarez by telling somebody to track him everywhere he goes.
Suarez, when he is at 100%, is very difficult to stop anyway. Although he plays as a centre-forward, he likes to work the channels down the inside of the penalty area, and take people on.
He squares defenders up and either looks for little ricochets off them or tries to nutmeg them to let him run straight through on goal.
Because of that Gary Cahill and Phil Jagielka will not want to be caught in one-on-one situations against him but, as I said before the Italy game, they are mobile enough to deal with it.
They have to be if England are going to play in the positive way they do.
During my progression through the youth and reserve teams at Manchester United we were taught to deal with one-on-one or two-versus-two at the back.
Because, when you are playing for United and looking to attack all the time, there are going to be times when you have to deal with those situations.
So that was the basis of our defensive coaching at United every day from the ages of 16 to 18 so that, when it came to the big occasion at Old Trafford, we could handle it.
Like United, England are now focused on committing men forward and posing the opposition problems. If we had slow centre-backs then that would be a problem but pace at the back is one of our strengths.
Entertaining England part of thrilling World Cup

England's attacking style definitely fits in with the way the rest of this World Cup has gone so far, and I think the Brazil factor is a big reason for that.
When Brazilians go to games, they want excitement and it seems as if most of the coaches of the countries that are here have taken that approach too.
It has helped this tournament to really take off. I have been to Sao Paulo, Manaus and now Rio de Janeiro and everywhere you go they have embraced it.
In Sao Paulo loads of people were wearing Brazil shirts and Rio has just been a carnival of football.
But you quickly realise how big a part of life football is over here - and how good at it everybody is.
When I came here with Manchester United for the World Club Championship in 2000 we were staying at the same hotel as England - the Royal Tulip in Rio's Sao Conrado district.
We came down to the Copacabana to sunbathe and saw all the locals playing head tennis on the beach.
A few of us - all United first-teamers - challenged some of them, who were all about 50, to a game and we got absolutely spanked. They put on an exhibition of ball control and we lost 21-6.
So that was a lesson that you don't take on any Brazilians at football on the beach because they are masters.
I am not going to try that again this time but I have set myself a challenge. At the weekend, myself and a friend will be running up to the Christ the Redeemer statue at the top of the Corcovado mountain.
It is 700m high and will probably take us about an hour and 20 minutes, all uphill. There are probably easier ways of getting up there, but I am really looking forward to it.
Phil Neville was speaking to BBC Sport's Chris Bevan in Brazil.