World Cup 2014: Rooney holds key to England success - Lampard

By Phil McNulty
BBC Sport Chief Football Writer, in Rio de Janeiro
Last updated on .From the section 2014 Fifa World Cup
Frank Lampard believes team-mate Wayne Rooney still holds the key to England's World Cup hopes, after claiming there is "an agenda" against the striker.
But he looks certain to start against Uruguay as manager Roy Hodgson ponders whether to move him into a more central role and switch Raheem Sterling wide.
Midfielder Lampard said: "He is an exceptional player as we all know."
Lampard, facing the media at England's training headquarters, added: "If we are going to do well in this World Cup, players like Wayne are going to come to the fore because that is what they do."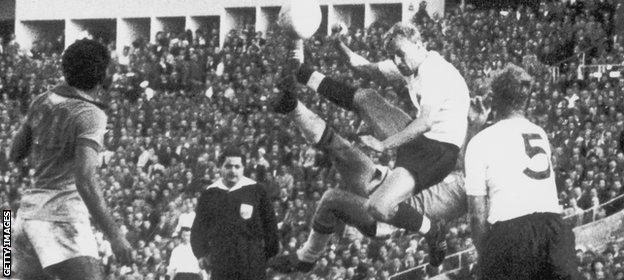 Hodgson's decision to use Rooney, 28, on the flank and 19-year-old Liverpool winger Sterling through the middle against the Italians has led to a debate about whether the Manchester United striker is in danger of losing his place.
However, the indications are he will face Uruguay in Thursday's Group D game in Sao Paulo - one England cannot afford to lose if they are to keep their World Cup hopes alive.
Sterling said he and Rooney returning to their regular roles could be positive but added it was "up to the manager".
Lampard, 35, who played in Euro 2004 when Rooney made his name as an Everton teenager, insisted the striker was strong enough to cope with the scrutiny on his position.
"Of all the players I've met in an England shirt, Wayne is one of the toughest," he said.
"I remember him coming into the dressing room at 17, warming up, just getting his kit on and going out and playing. He still has that mindset. I'm not picking the manager's team for him but Wayne is a very tough boy.
"Top players understand what it is. They understand what comes with it. It's great and then some negativity comes along. I think Wayne looks ready to show what he can do on the pitch. He looks very focused to me."
England coach Gary Neville told BBC Sport that Rooney can cope with the "drama" of the attention on him, but Lampard believes the debate is threatening to undermine the World Cup campaign for the squad as a whole.
"If you are a human being, no matter how tough you are, if every time you read a paper or look at the TV, and there are people debating his position, I don't see how that can be positive," he continued.
"If you want people to do well I don't see how you can keep focusing on one player rather than the team and say that might not be detrimental, no matter the ability of the player, whether it is Lionel Messi, Neymar or whoever.
Group D permutations for England
If England beat Uruguay they will face Costa Rica knowing victory is likely to see them qualify.
If England draw then victory against Costa Rica could be enough, if Costa Rica lose against Italy on Friday.
If England lose then they would need to beat Costa Rica and hope Italy beat Uruguay and Costa Rica.
"Players like Raheem Sterling are coming through and doing very well and we are slightly over-fixated on one player who has been our best player, our top goalscorer in qualifying and will break the England goalscoring record."
Lampard added: "A fixation can become an agenda rather than a debate."
The decision for Hodgson comes ahead of a pivotal fixture, as defeat against Oscar Tabarez's side could eliminate England at the group stage for the first time since 1958.
For the best of BBC Sport's in-depth content and analysis, go to our features and video page.