World Cup 2014: Spain claims 'exaggerated' - Xabi Alonso
Last updated on .From the section 2014 Fifa World Cup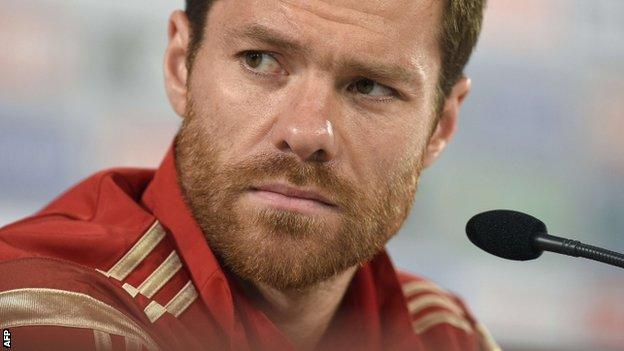 Claims that World Cup holders Spain are no longer the force they were have been exaggerated, says midfielder Xabi Alonso.
The 32-year-old Real Madrid player said: "What you've heard in the press seems a little exaggerated to me.
"You cannot consider that this generation is finished. On the contrary, we are still alive."
Alonso, who has made 110 caps for Spain, added: "We want to demonstrate that and we have a perfect opportunity to do so. We still have a lot of things to say and we can still compete."
Striker Fernando Torres admitted nothing but victory would do, and conceded Spain may have to alter their approach to avoid an early exit.
"The important thing is that we win, hopefully in our usual style, at the high level that allowed us to win the World Cup and the Euros," said the Chelsea striker, 30.
"And if we can't win like that, we have to win any way we can, because otherwise we'll have to go back home."
Spain coach Vicente Del Bosque says his players must be inspired by the need to make amends for their crushing loss to the Netherlands.
Defeat has left the holders desperately in need of victory against Chile.
Del Bosque, who led Spain to victory in the 2010 World Cup and 2012 European Championship, said his players were "deeply wounded".
He added: "Desire to rebel against a tough result should be an inspiration."
Del Bosque has suggested he will make changes - in both personnel and tactics - against a Chile side who beat Australia 3-1 in their opening match.
"I have assessed the situation and there will probably be some changes, not many but some," added the 63-year-old.
"You have to remember that those that didn't play the other day are also top players with big clubs."
Del Bosque said his side must "not be intimidated" in the Maracana.
He added: "We will do things that are not typical for us but that could cause them damage."