World Cup 2014: Raheem Sterling happy for Wayne Rooney switch

By Phil McNulty
BBC Sport Chief Football Writer, in Rio de Janeiro
Last updated on .From the section 2014 Fifa World Cup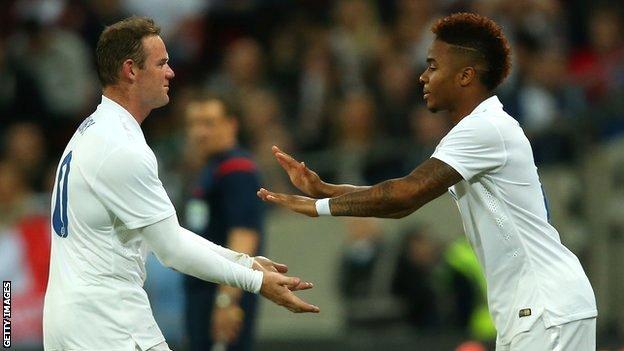 Raheem Sterling insists he is happy to switch positions to accommodate Wayne Rooney if it helps keep England's World Cup ambitions alive.
Sterling, 19, played behind Daniel Sturridge in the 2-1 defeat by Italy and earned praised for his performance.
Rooney started on the left but, despite setting up the equaliser, was largely ineffective and is set to return to a central role against Uruguay.
"I would be happy to play anywhere the manager puts me," said Sterling.
"I will be working for the team regardless of the position I play in."
BBC pundits Alan Shearer and Rio Ferdinand have called for England boss Roy Hodgson to play Rooney in a more central role despite Sterling's fearless attitude, which epitomised the team's fine attacking display against Italy.
"It was a big occasion, my first competitive start," said Sterling, who plays both wide and off the striker for Liverpool.
"I tried to think of it as just another game and give it my best shot. It wasn't enough but the team did some really impressive stuff and we will go out on Thursday ready to go again.
"I tried to work hard for the team and help not just in the attacking bits but in defence as well. It was a difficult one because they had about three players around me every time."
Group D permutations for England
If England beat Uruguay they will face Costa Rica knowing victory is likely to see them qualify.
If England draw then victory against Costa Rica could be enough, if Costa Rica lose against Italy on Friday.
If England lose then they would need to beat Costa Rica and hope Italy beat Uruguay and Costa Rica.
He added: "The people here just try to take the pressure off you so you can express yourself, which is the most important thing as a young player. They want you to show what you can do on the ball. I'm just learning and trying to be fearless in my approach to games."
Former England defender Ferdinand said Sterling, who has five caps, had been "amazing" against Italy.
"He was the star man for us, the go-to guy," Ferdinand said.
"Sterling was so direct and so positive every time we got the ball and he was a defender's nightmare. He is quick, skilful and wants to attack you."
On Thursday, Sterling looks likely to face Liverpool team-mate Luis Suarez after he missed Uruguay's opening game 3-1 defeat against Costa Rica following knee surgery.
England, however, are focusing on Uruguay as a team, not just Suarez.
"We have been looking at them but we don't want to give too much away," said Sterling. "We are trying to find ways in which we can really hurt them and I think the manager has been preparing really well for this game."
For the best of BBC Sport's in-depth content and analysis, go to our features and video page.