World Cup 2014: 'Rarely have Brazil looked so ordinary'
By Ben Smith
BBC Sport in Fortaleza
Last updated on .From the section 2014 Fifa World Cup
This was nothing like watching Brazil.
The Selecao have rarely looked so ordinary, so human. They trudged from the field at Estadio Castelao to a soundtrack of whistles, shoulders slumped, faces crumpled with frustration.
This was not in the script.
Some 6,000 Mexico fans serenaded their heroes, danced in the stands, revelled in Brazil's moment of anguish. A goalless draw was a setback for Brazil, as much as it was a significant step forward for their opponents.
And yet, as the Brazilian squad fronted up to the media after the match, it was hard not to reflect on the past.
A year ago, almost to the day, Fortaleza had embraced Brazil as few other cities do. Driven on by a partisan crowd, they had done enough to beat Mexico and no more.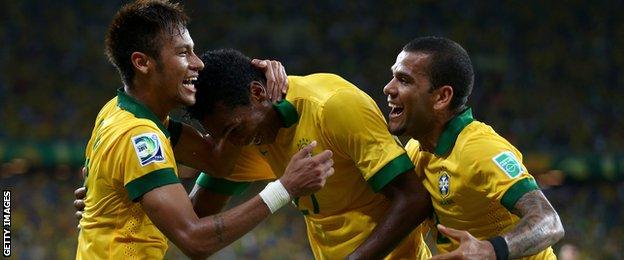 Goals by Neymar and Jo gave Brazil momentum that would sweep them all the way to the Maracana and a thrilling victory over Spain in the Confederations Cup final.
As with 12 months ago, Fortaleza played its part. Every corner of every street was decked in yellow and green, every child dressed in those familiar colours.
The pride at hosting Brazil in a World Cup match was tangible and, at times, all-consuming. On the streets around the stadium, crowds gathered to see the team coach pass by. A 200ft Brazil flag draped over a crane set the mood.
The anthem was every bit as stirring, every bit as passionate and patriotic as it had been a year ago. In homes around the country, Brazilian TV put the words on every screen. No-one held back. Neymar was no exception, his tears flowing as the anthem drew to a close.
The stage was set for the Selecao to play their part. Brazil expected. But history did not repeat itself.
Coach Luiz Felipe Scolari spent much of the 90 minutes kicking water bottles around the technical area.
This was an evening of frustration on the field, in the stands and all around the country. This was a match in which Mexico exposed Brazil's over-reliance on the creativity of Neymar and the craft of Oscar.
Fred struggled to impose himself, his touch, once again, letting him down at the crucial moments. The Fluminense striker attempted 16 passes, half of which failed to find their target.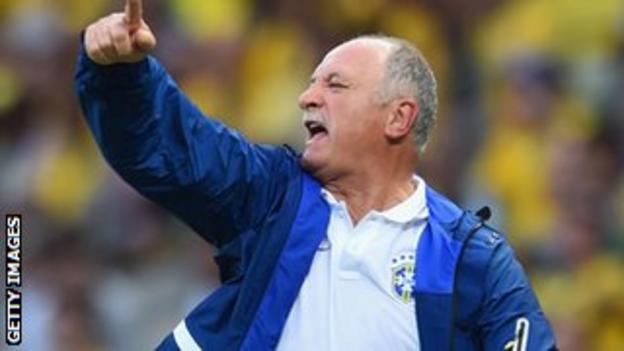 The opening-day victory over Croatia had done little to pacify the critics. Then, Fred had no shots, no assists and did not make a single run into the attacking third.
His reaction to the slightest of tugs by Dejan Lovren won Brazil a fortuitous penalty but his effectiveness is now being questioned like never before. Jo, who replaced him in the second half, was no more convincing.
Paulinho and Luis Gustavo failed to establish any kind of superiority in midfield. Few would question their guts, but they lacked guile.
This was a Brazil team with style but no substance. A Brazil team that faces more questions, more headaches.
In the distant past, this city holds difficult memories for Brazil, too. It was here, 39 matches ago, that Brazil last lost a match on home turf, 1-0 to Paraguay in 2002. There were periods in the second half against Mexico that record was threatened.
From the outside, this feels like a team straining under the weight of expectation. And yet that was not in evidence as the Brazil players came through the rat-run occupied by the world's media. Every player stopped to speak. There was no sense of panic, no sense this had been the setback the world believed it was.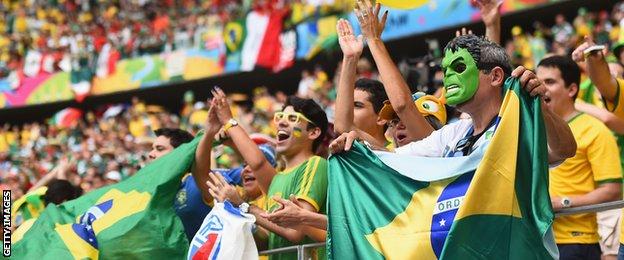 Defender David Luiz said: "We are not down. Mexico are a great team, they have great players. We were unlucky in some moments, their goalkeeper had a great game.
"But it is OK, that is what happens in World Cups. We have great belief in ourselves. The country is with us."
History of all kinds was fresh in the memory at Estadio Castelao. But, as the players left the stadium and boarded the team bus, Scolari may have been reminding them of another memory.
Brazil do not often draw 0-0. This was only the second time in 26 World Cup matches, but the omens are not all negative. At the 1958 World Cup in Sweden, Brazil drew 0-0 with England in the group stage and went on to lift the trophy for the first time.
On the evidence of the draw with Mexico, this Brazil side still has some way to go to repeat that feat.
The pressure is extraordinary, the weight of expectation immense, but this is a team that stands and falls together. Unity is at the heart of what Scolari is trying to build.
Bigger tests may await, but Brazil must improve if they are to win a sixth World Cup this summer.
Did you know?...
This is only Brazil's second goalless draw in their past 26 World Cup games.
This is the first time in four World Cup games against Brazil that Mexico have not conceded, however they are still yet to score against the Selecao.
Brazil's Fred completed eight of 16 attempted passes against Mexico (50%).
Brazil have lost just one of their 35 World Cup matches in the first round/group stages of the World Cup since 1970 (W27 D7).
Only in three World Cup games since (and including) 1966 have Mexico mustered fewer shots on target than they managed tonight (2).