World Cup 2014: Louis van Gaal makes dugout complaint
Last updated on .From the section 2014 Fifa World Cup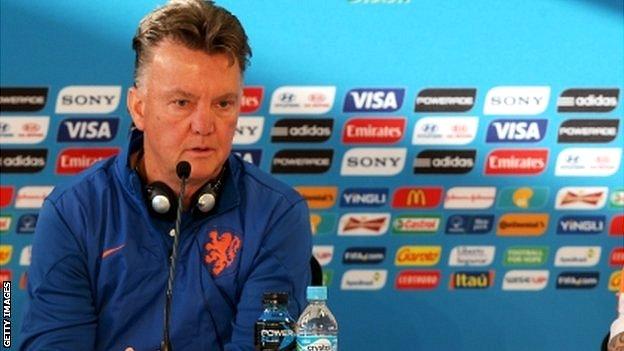 Netherlands coach Louis van Gaal has complained about the view he gets from the dugout at the stadium where his side play Australia on Wednesday.
The Dutch play their second 2014 Fifa World Cup match at the Estadio Beira-Rio in Port Alegre at 17:00 BST.
Van Gaal says he has "no view" because of a TV camera in front of the dugout, which is also too low.
Football's world governing body Fifa said it was looking into "adjusting the current position of the camera".
It hopes to "mitigate the obstructed view" but does not intend to remove the camera altogether or reposition the team benches.
The 62-year-old Van Gaal insists the problem is made worse because he likes to sit during games.
Fifa officials claim that there have been no complaints from the coaches of France and Honduras, who have already played at the stadium.
The Netherlands hope to build on their impressive 5-1 opening Group B victory over reigning champions Spain in Salvador.
Van Gaal became Netherlands coach for a second time in 2012 and will take over as manager of Manchester United after the tournament.