Premier League: How the 2014-15 season could unfold
By Simon Stone and Steve Canavan
BBC Sport
Last updated on .From the section Football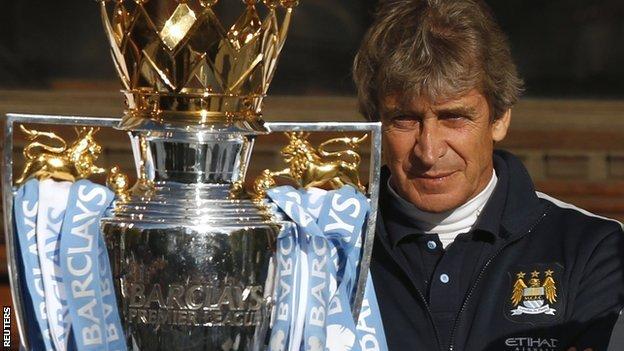 The Premier League fixtures are out and fans in this country and abroad will be picking out the games that mean most to them.
Here, BBC Sport takes a look at what the season might have in store.
The start
David Moyes might look at the fixtures for the new season and feel someone is having a joke at his expense.
The Scot's ill-fated tenure at Manchester United included encounters with Chelsea, Liverpool and Manchester City in the opening five games.
In contrast, successor Louis van Gaal does not meet any of those foes until 25 October, when Blues boss Jose Mourinho heads to Old Trafford.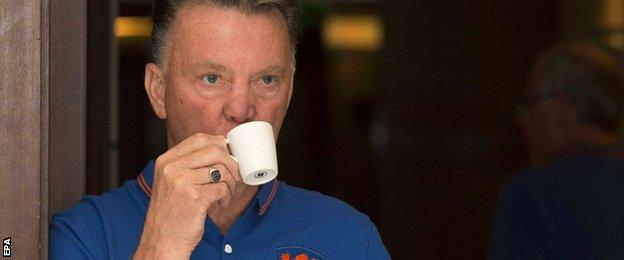 If anyone has reason to grumble this time around, it is Manuel Pellegrini.
The Chilean's "prize" for claiming the Premier League title in his first season at Manchester City is a trip to Newcastle on 16 August, followed by home games against Liverpool and Stoke immediately before the international break at the start of September, and then Arsenal (away) and Chelsea (home) immediately afterwards.
As Moyes found to his cost, it can be difficult to make up any ground lost in those crucial opening weeks.
Ever the strategist, Mourinho will look at games against newly promoted duo Burnley and Leicester as a chance to exert early pressure, particularly as Liverpool travel to Manchester City and Tottenham after entertaining Southampton on the opening day.
Sean Dyche will get an early taste of Premier League glamour, with Manchester United also heading to Turf Moor in August, while Leicester may find it tough to collect points from their first three games in the top flight, against Everton, Chelsea and Arsenal.
The crunch games
Chelsea's signing of Cesc Fabregas prompted some bookmakers to make the Blues title favourites this season, which adds further spice - as if it were needed - to their clashes with champions Manchester City.
After the 20 September showdown at the Etihad, Mourinho and Pellegrini meet again at Stamford Bridge on 31 January.
As for Fabregas, the Spain international will also face former club Arsenal on 4 October, with the return at the Emirates on 25 April.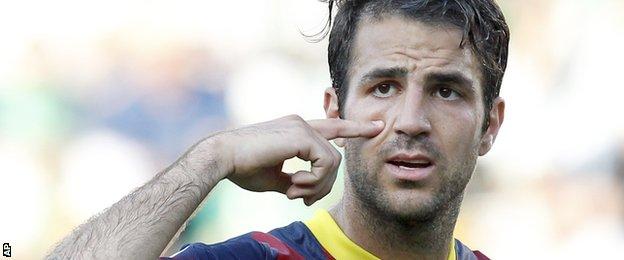 Manchester United twice lost heavily to neighbours City last season so will want to make amends this time around.
The first Manchester derby takes place at City's Etihad on 1 November, with the return at Old Trafford on 11 April.
Newcastle United will also want to set the record straight when they face north east foes Sunderland, who won both league encounters last term.
The two sides meet at St James' Park on 20 December, then at the Stadium of Light on 4 April.
Can Liverpool go one better than last season? Their title credentials will face a stiff examination in December, when they take on Manchester United and Arsenal in successive games.
There is a battle of the Dutch at St Mary's on 6 December, when Ronald Koeman's Southampton faces Van Gaal's Manchester United.
By then Koeman will have faced his predecessor at Saints, Mauricio Pochettino, who is now manager at Tottenham. The two sides meet at White Hart Lane on 4 October, with the return at St Mary's in April.
As for the new boys, they face a tough Boxing Day. Queens Park Rangers make the short trip to Arsenal, Leicester entertain Tottenham and Burnley host Liverpool.
Managers under pressure
It is a measure of the uncertainty that surrounds the life of a Premier League manager that two long-serving bosses found themselves under huge pressure last term.
Lingering discontent from supporters at Newcastle and West Ham will not have eased, so the spotlight will burn fiercely on Alan Pardew and Sam Allardyce respectively should they find results turning against them.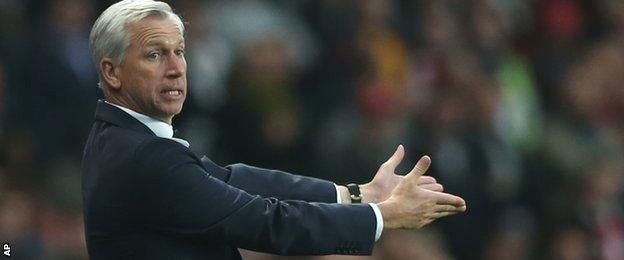 It is hard to see a manager losing his job before 22 September, the date Paolo di Canio exited from Sunderland last season, but there may well be a casualty before 23 October.
That is when Ian Holloway left Crystal Palace, the second of 10 managerial changes in the top flight last term.
The majority of managers should - at least at the start of the campaign - feel reasonably secure.
It is a ruthless environment, though, so Alan Irvine and Koeman cannot count on a sympathetic reaction from fans if their early weeks at West Bromwich Albion and Southampton prove more hazardous than anticipated.
The European factor
It is one of the quirks of English football that teams spend all season trying to qualify for Europe, only to complain when they actually get there.
Penny for the thoughts of Wenger and Mourinho, then.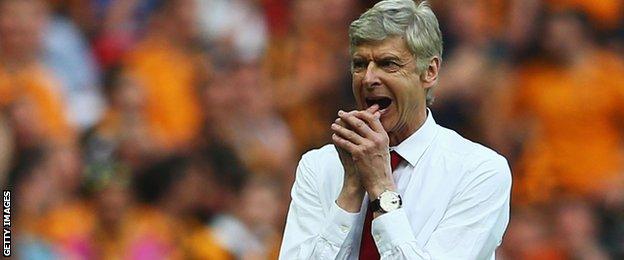 Clubs prefer to play league games at home after Champions League ties because of reduced preparation time, but Arsenal are away in seven out of a possible eight matches, if qualifiers are included.
Chelsea, meanwhile, play both Manchester clubs, Arsenal and Liverpool immediately after their European exploits, with only the encounter with the Gunners at Stamford Bridge.
Thursday nights in the Europa League present their own problems.
Indeed, like Liverpool last season, one of Manchester United's big advantages this term may be having completely free midweeks for Van Gaal to set his team up.
Hull's opening game in the tournament is on 31 July. If they make it to the group stage, Steve Bruce's men will have had an additional 10 fixtures crammed into their calendar.
Glamorous for the fans, not so handy for the FA Cup finalists, who only finished four points above the drop zone last season.
The run-in
Manchester City's last few games look pretty favourable on paper. Their last six fixtures include games against West Ham, Aston Villa, QPR, Swansea and Southampton.
Contrast that to Chelsea, whose last six games feature Liverpool, Arsenal and Manchester United.
If the Blues still have the Champions League on their mind, it could be a real test, although their last two fixtures are away at West Brom and then at home to Sunderland.
As for Manchester United, Van Gaal's men go to Hull on the final day, but their final seven games include Manchester City, Chelsea, Everton and - in their penultimate fixture of the season - Arsenal.
Liverpool, who looked to be heading for the title last season only to slip up in their final few matches, finish with a home game against Crystal Palace and a trip to Stoke.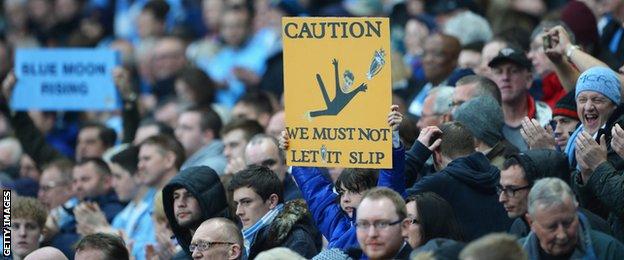 They also face QPR, West Brom, Hull and Newcastle in their closing fixtures. It looks a run-in Reds boss Brendan Rodgers will be content with.
If Arsenal are in the running to win a first Premier League title since 2004, boss Arsene Wenger will surely be satisfied with a run-in that includes West Brom, Swansea, Hull, Sunderland and Burnley.
On the downside, there is a trip to Manchester United in the penultimate match, plus a home encounter with Chelsea at the end of April.
Of the promoted clubs, Burnley and Leicester have the kindest finishes. QPR travel to Manchester City and Liverpool in their final four games.
But look out for what could be a huge final-day fixture between Harry Redknapp's Rangers and Nigel Pearson's Foxes at the King Power Stadium.
Opening fixtures (weekend of 16 August)
Arsenal v Crystal Palace
Burnley v Chelsea
Leicester City v Everton
Liverpool v Southampton
Manchester United v Swansea City
Newcastle United v Manchester City
Queens Park Rangers v Hull City
Stoke City v Aston Villa
West Bromwich Albion v Sunderland
West Ham United v Tottenham Hotspur
All fixtures and kick-off times are subject to change. The BBC is not responsible for any changes that may be made.