Women's World Cup 2015: Belarus 0-3 Wales
Last updated on .From the section Football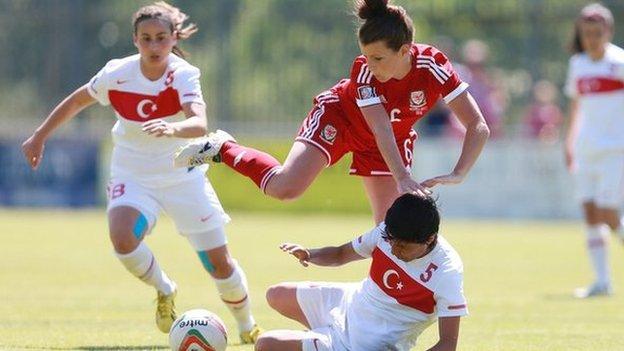 Natasha Harding scored a late hat-trick to earn Wales a 3-0 win against Belarus in their Group Six World Cup qualifier in Minsk.
Wales had to wait until the 79th minute to take the lead through the Bristol Academy striker in a dominant display.
It means with two games to go Wales remain second in the group, five points behind group leaders England who beat Ukraine 2-1 away.
Wales face England on Thursday, 21 August at the Cardiff City Stadium.
Jarmo Matikainen's side followed up their 1-0 win over Turkey on 14 June with victory at the Traktor Stadium.
If they had failed to win in Belarus, England would have qualified for the 2015 finals in Canada.
Four runners-ups from the seven groups will go into two rounds of play-off matches for the remaining World Cup spot.
Wales are well placed, nine points ahead of third-placed Ukraine, who have two games in hand and are their opponents in their final group game.
Teams
Belarus: Ina Batsianouskaya (FC Minsk); Anastasya Linnik (FC Zorka-BDU), Yulia Sliasarchyk (FC Zorka-BDU), Liana Mirashnichenko (FC Minsk), Anastasia Popova (FC Zorka -BDU), Anastasia Khavanskaya (Universitet), Anna Pilipenko (FC Mordovochka), Alina Vasilyeva (FC Minsk), Darya Marinina, Anna Kozyupa, Yulya Borisenko (FC Kubanochka).
Substitutes: Miklashevich, Tatsiana Markusheuskaya (FC Zorka-BDU), Shpak, Kiose, Polina Beshten, Anastasia Shcherbachenia (FC Zorka-BDU), Elena Shevchuk (FC Zorka-BDU).
Wales: Nicola Davies (Reading); Nicola Cousins (Cardiff City Ladies), Carys Hawkins (Fylkir), Kylie Davies (Millwall), Sophie Ingle (Bristol Academy), Angharad James (Bristol Academy), Loren Dykes (Bristol Academy), Jess Fishlock (Capt) (Seattle Reign), Natasha Harding (Bristol Academy), Sarah Wiltshire (Watford) and Helen Bleazard (Yeovil Town).
Substitutes: Sophie Dando (Cardiff City Ladies), Alys Hinchcliffe (Wrexham), Michelle Green (Cardiff City Ladies), Nadia Lawrence (IBV Vestmannaeyjar), Josie Green (Watford), Georgia Evans (Bristol Academy), Samantha Quayle (Bristol Academy).