Fifa threatens Botswana with worldwide ban
By Mtokozisi Dube
BBC Sport, Gaborone
Last updated on .From the section Football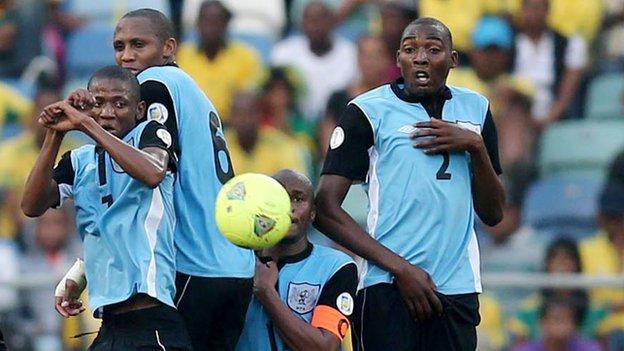 Botswana have been threatened with a ban by Fifa over tournaments that football's world governing body believes are not under control of the country's football association.
Fifa wants the Botswana government to relinquish control of President Ian Khama's constituency football tournaments - and has given a deadline of three months for it to happen.
If Botswana do not comply, the team will be banned from all Fifa and Confederation of African Football tournaments.
In a statement, Fifa said it had come to the conclusion that the tournaments are operating parallel to the Botswana FA football pyramid and are in violation of its statutes.
This came after a recent four-day fact-finding mission by Fifa's Ashford Mamelodi and James Johnson.
The southern African country has been given up to 22 September to rectify the situation.
Mamelodi, who is Fifa's Southern and Eastern Region development officer, told BBC Sport: "Fifa's concern was about the famous football pyramid, unfortunately the constituency tournaments fall outside that."
He added that the tournaments were a good initiative, but needed to be run according to Fifa's statutes which stipulate that all leagues and other football groups must be subordinate to, and recognised by, the Botswana FA.
"The Botswana FA needs to accommodate this tournament. There are lot of positives, but we need to regulate it as normal football," Mamelodi added.
Botswana FA president, Tebogo Sebego said Fifa's call had been heeded and he was hopeful the government will cooperate. The Botswana FA is expected to meet government representatives in the next few days to find a solution.
Apart from being cast out of Fifa and Caf tournaments, the Botswana FA could also lose their right to participate in the Fifa Congress, nominating candidates for Fifa presidency, and taking part in Fifa's assistance and development programme.