Celtic boss Deila happy to work with 'strong personalities'
Last updated on .From the section Football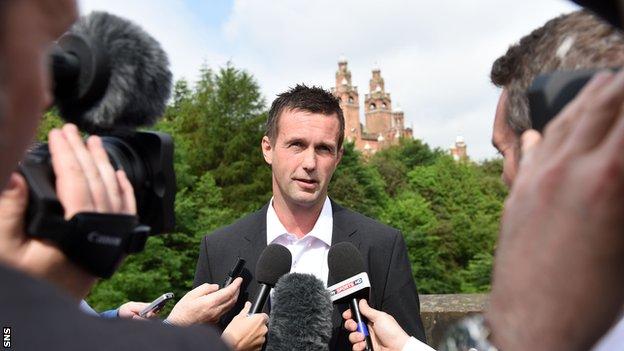 Celtic manager Ronny Deila does not foresee any difficulties between captain Scott Brown and new assistant boss John Collins.
Brown was in a dressing room which agitated against Collins during his time as Hibernian manager in 2007.
"If they had something in the past, they are grown-ups and I know there is going to be no trouble," said Deila.
"I talked with Scott about what I'm thinking of doing and we have agreed on everything."
Deila confirmed that Brown would retain the captaincy and revealed that youth coach John Kennedy is to move up to a role with the first team.
Seven years ago, just a few weeks after winning the League Cup, Hibs players had to issue an apology to Collins after complaining about his methods to club chairman Rod Petrie.
Collins quit the Easter Road club in December 2007 and the former Scotland international's only other managerial experience was a brief spell with Belgian side Charleroi.
"We need strong personalities, we need many opinions and we have to handle them in a good way and then we will progress and produce good results for Celtic," added Deila, who was eager to stress Collins had been his preferred pick.
"It was, of course, my choice," he said. "We had a lot of options. I am very pleased to get him here.
"It was important for me to get a guy who knows Scottish football and who is a good name for Celtic.
"When we talked we didn't stop for a long, long while so I think we will have many good discussions.
"He was a very good footballer, he has a good knowledge of the game, he knows Scottish football very well and has been a professional in France so he knows the European culture and the standard of the Champions League.
"He has similar views to me and he is a very strong person, and I want strong people around me who can fight with me so we can improve as a team.
"I love strong personalities. If you are a good leader you can handle that. I want staff who have a good knowledge of the game, and opinions."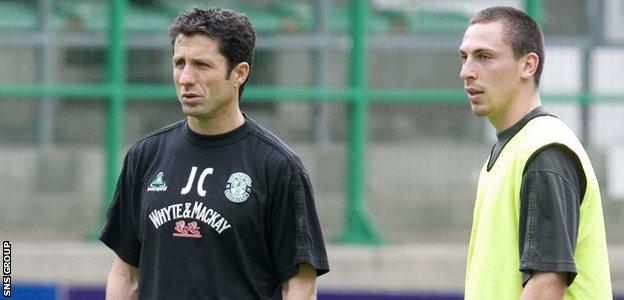 Celtic return for pre-season training next week ahead of their first Champions League qualifiers next month.
And Deila is stepping up his search for new players, although he is unlikely to return to Norway to plunder former club Stromsgodset.
"If you are going to play for Celtic you need to be Champions League standard and Norway is far away from that," he said.
"We'll see where the best players are, we're going to go after talent, players who have the quality or who can get it. That's hard but we have a very good scouting department. We will see if they are Norwegian. I hope they are Scottish, that's the best thing.
"We are going to do everything we can to be well prepared. The squad has been together for many years and we're going to use the time we have now to get to know each other. In the beginning we need to play on the same things Neil Lennon did so well last year, if we are going to make some changes we will do it over time, so I feel confident about that."