Louis Tomlinson and John Ryan set to complete Doncaster takeover
Last updated on .From the section Doncaster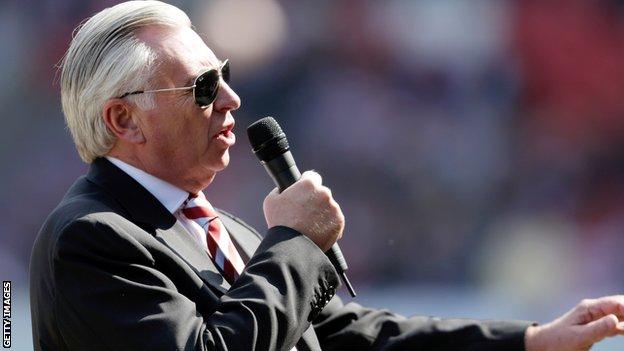 Incoming joint-Doncaster owner John Ryan is confident the takeover will be announced on Thursday.
The deal had been expected to be confirmed last week but issues relating to Tomlinson's image rights held it up.
"I think everything is signed up now and the contracts are being exchanged ahead of completion in mid-July," he told BBC Radio Sheffield.
Ryan, who left the club last November after 15 years, added: "I didn't intend to come back but you never say never.
"One or two opportunities came along and I looked into it and just thought it would be fantastic if we could pull it off and get a superstar on board.
"I met Louis and we got on great. I heard he was interested in getting involved with the club at an ownership level and it just went from there.
"Louis and I hope to take the club to new heights."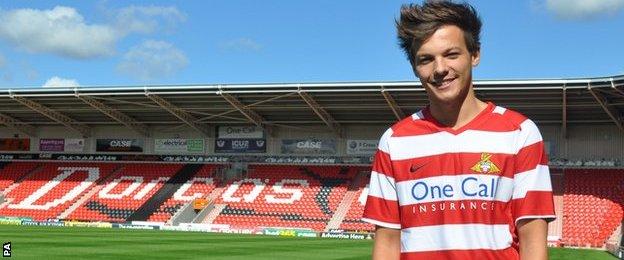 Rovers were relegated back to League One on the final day of last term, just one season after winning promotion and the title with a dramatic final-day 1-0 win at Brentford.
Despite going down Ryan has given his backing to current manager Paul Dickov.
"I think he has done a good job and we should really have avoided relegation because we had some shocking decisions given against us," he said.
"His budget is going to go up and it will be one of the top budgets in League One for sure."
The 64-year-old believes the club are capable of one day fighting for a place in the Premier League.
"There is no doubt about it, we want to get into the Premier League," he added.
"Obviously we have to walk before we can run and we will be going all out to go up to the Championship this season.
"I am confident that we will be right up there and I want the supporters to get behind us and let's see what we can achieve."
Rovers start their League One season with a trip to Yeovil on Saturday, 9 August.