World Cup 2014: England v Uruguay is Hodgson's biggest test

By Phil McNulty
Chief football writer
Last updated on .From the section 2014 Fifa World Cup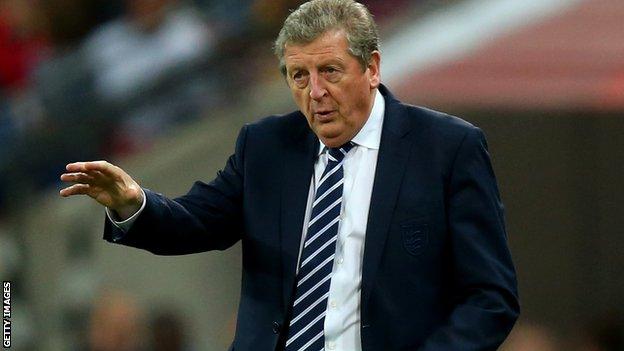 England may have to combat Luis Suarez and the 20,000 Uruguay fans flooding into the southern hemisphere's largest city to keep their World Cup hopes alive - but at least Sao Paulo's conditions will make them feel at home.
As manager Roy Hodgson and his squad made the short flight from Rio de Janiero for the game that will shape their World Cup future, the place famous for its choking traffic offered relief from the extremity that tested them so severely in Manaus when they lost to Italy.
Sao Paulo was hit by torrential rains shortly after their arrival and the forecast for Thursday is for more rain and comfortable mid-teen temperatures - contrasting sharply with the 30C and worse offered up in the Amazonian rainforest.
There, England's comfort zone ends abruptly.
For all the promise shown in that 2-1 defeat by Italy, England simply cannot afford to slip up again against a Uruguay team who will be equally desperate for victory after they lost their opening game to Group D outsiders Costa Rica.
Striker Edinson Cavani, almost a sideshow to the main attraction of Suarez, smiled as he faced the media here on Wednesday but his words carried menace. The game, he announced, would be a fight and his team "have the tools to react".
England remain confident, but while Hodgson ducked and weaved when asked whether this was the biggest game of his career, the reality is inescapable: it is.
The 67-year-old has had a nomadic coaching career but nothing he has experienced at club or international level compares with a game that will almost certainly decide the World Cup fate of the country of his birth.
In simple terms, the goal that Hodgson and England have been working towards since a virtual free hit in Euro 2012 - Hodgson was appointed only weeks before its start - goes on the line here in Sao Paulo.
He is right to suggest there may be bigger games over the course of the next three weeks, of course. That all effectively hinges, however, on what happens against Uruguay.
"I don't like to go down that route," Hodgson said. "You know how big a game it is. It's the World Cup. I don't think anybody goes into a World Cup expecting that every game isn't going to be a very big game.
"We are still in the throes of trying to stay in the competition and go further, so hopefully there will be even bigger occasions. That's what we're planning for but I'm not a great comparer.
"I've enjoyed every moment of my career. I'm delighted still to be taking an England team at a World Cup so I'll leave others to decide whether it's my biggest game or my second biggest game or my fifth biggest game.
"I'll just take the game as it comes and make certain I do my job properly, which is to focus on the game, to try to pick the right team and then when the team's playing to make certain I analyse the game because that's my job. That's what I can do."
England know they will face a hugely passionate and partisan atmosphere on Thursday, and Hodgson wants to impress on his men exactly what is at stake.
He asked captain Steven Gerrard and veteran midfielder Frank Lampard to address England's players on Sunday night after the Italy loss. It was not a case of grand Churchillian speeches from either but a sit-down reminder of the pain England will suffer if they wake up on Friday morning having slept on two World Cup defeats.
Hodgson - a varied career
Born in Croydon in 1947
Played for Gravesend & Northfleet, Maidstone and South African side Berea Park
Started managerial career at Swedish side Halmstad in 1976
Has managed in Sweden, England, Switzerland, Italy, Denmark and Norway
Managed Inter Milan during two spells in the 1990s
Coached Switzerland at 1994 World Cup, was in charge of UAE from 2002 to 2004 and Finland between 2005 and 2007
Managed Blackburn, Fulham and Liverpool in the Premier League and moved to West Brom in February 2011
West Brom granted the Football Association permission to speak to Hodgson about the vacant manager's position on 29 April 2012. Confirmed as England manager on 1 May 2012
England record - Won 15 - Lost - 4 - Drawn - 10 - Goals - 57 - Bookings - 29 - Dismissals - 2
Before the Italy game Gerrard promised there would be no excuses from England in defeat, and none was offered afterwards, although Uruguay have one of the more bizarre reasons for suggesting the fates may be against them here in Brazil.
Around 86lbs of caramel spread, known as dulce de leche and very popular in Uruguay, was confiscated when they landed at Confins airport because it was made with milk and did not come accompanied by the necessary sanitary documentation.
Some Uruguay fans claimed this nutritional deprivation contributed to defeat against Costa Rica - but then England already knew they would face hungry fighters with World Cup survival at stake.
Hodgson's men were rightly praised for the potential on show against Italy. Now, though, he and England need a win to go with all the compliments.
There may be bigger games ahead for Hodgson - and they may even come very soon - but for now this meeting in Sao Paulo is the biggest of his long career.