World Cup 2014: Boateng brothers set for battle
Last updated on .From the section 2014 Fifa World Cup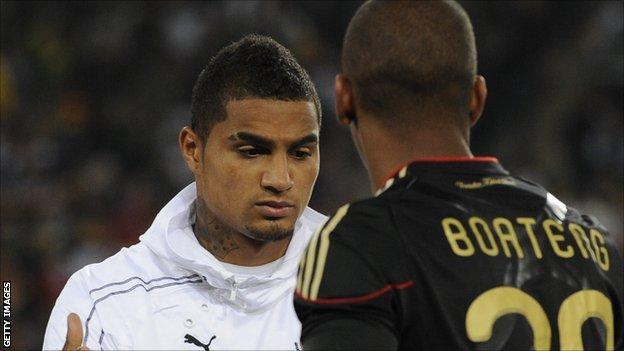 Ghana's Kevin-Prince Boateng has predicted a "fight to the death" when he faces his sibling - Germany's Jerome Boateng - in Group G on Saturday.
The pair also faced each other at the 2010 World Cup in South Africa.
The brothers normally talk to each other daily, but there has been radio silence as they prepare for the Fortaleza clash in Brazil.
"We've had no contact recently, each of us is just concentrating on himself," said Bayern Munich's Jerome Boateng.
Germany are looking to maintain their grip on the group after hammering Portugal, and Kevin-Prince has predicted a fierce battle with Ghana having lost their opening game.
"It's like in ancient Rome. There will be people around the pitch who want to see how two teams fight," said the Schalke 04 player.
"The team who wants it more will win and we will fight to the death against Germany."
The half brothers were both born in Berlin to separate mothers, but in 2009, Kevin-Prince, 27, opted to play for the country of his father.
He turned to Ghana having become discouraged by a perceived lack of opportunities even after the brothers had made a single appearance in the same Germany Under-21 team.
In South Africa, they set a record by becoming the first brothers to play against each other at a World Cup finals and their father Prince says he is looking forward to seeing his two sons go head to head in Brazil.
"For me, it's the easiest game ever," he said. "Regardless of what happens, I can only win. My only wish is that nobody gets hurt."