Corsie: Scotland eye return to form against Northern Ireland
By Rachel Corsie
Scotland international
Last updated on .From the section Football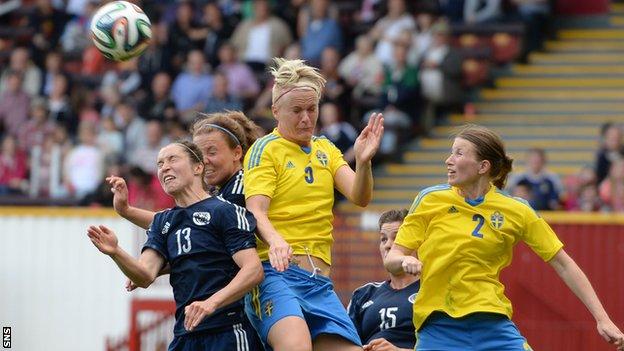 Since Saturday's defeat by Sweden, everyone was given some time off to relax and unwind with family and friends.
I think this was really important for a lot of the girls and for me it meant a rare trip back to Aberdeen with my mum and dad.
I always struggle to sleep after matches and so when I got home I watched back most of the game.
I think it's important to always reflect on performances and with another crucial game in Belfast on the Thursday I wanted to make sure come Monday I was ready to look forward to Northern Ireland.
Without dwelling on things, I again ran through much of the first half at Fir Park the next morning and despite the disappointment of the goals - which I must have watched 10 times over - we started the game really well and I felt we showed our quality and created a number of good chances.
I suppose, however, it did reinforce some of the issues identified earlier in the year.
Throughout the campaign we've had a very strong defensive record but in some friendly tournaments, where we've been more sternly tested, we've perhaps become too slack in our own penalty box - and we all know how damaging that can be.
We've been on a great winning run in our qualifying campaign and facing Northern Ireland so quickly after the defeat by Sweden is the best thing for us all - albeit a tough one!
The home fixture that we played at the end of last year was one of the toughest games in qualifying.
A lot of the squad know one or two players in their side and we have played numerous times in friendlies and the matches are always keenly contested and competitive.
The game comes with added pressure: if we want to retain hope of reaching Canada, then winning is a must.
We have a couple of pitch sessions planned to add to the preparation work done over the past few days. I'm looking forward to putting my boots back on and getting back on the pitch with the girls.
Spirits, I'm sure, will be back to being high, with everyone refocused on earning a place now for Thursday's game.
It will again be really tough for [Scotland coach] Anna Signeul to pick a starting 11 with the current depth in the squad and the fixture will be a very different challenge from that of Saturday.
The defeat was bitterly disappointing, especially because the girls really felt like we underperformed. Sweden are one of the best sides in women's football just now and we knew how difficult it would be and needed to be on top of our game.
We made too many early mistakes and that made it very difficult to come back from twice being behind. The third goal coming so early in the second half really took the wind out of us.
I think the best thing for the team is that we have another fixture so soon after the Sweden loss.