Reading: 'Several' interested in buying club - Sir John Madejski
Last updated on .From the section Football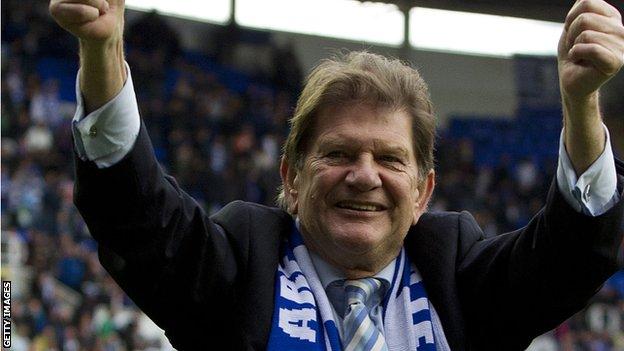 Reading chairman Sir John Madejski has reiterated his stance that there are still "several parties interested" in taking over the club.
"The Thais are quite advanced in their negotiations but nothing's been absolutely signed and sealed," Madejski told BBC Radio Berkshire.
"You'll know when a deal is done."
He added: "I prefer to say nothing until a deal's absolutely been consummated."
Anton Zingarevich bought a 51% stake in the Championship club in May 2012 and had been due to purchase the remaining 49% of shares from chairman Sir John Madejski in September 2013, but he failed to complete the deal.
Zingarevich did not attend a single game last season, with Madejski resuming day-to-day control in February.
Madejski, who it recently emerged has lost around £300m of his near £400m fortune, has been chairman since 1990 and has said he is determined to find the right person to take over.
Israeli entrepreneur Teddy Sagi, who made his fortune in gaming software, and Indian businessman Mohit Burman, who is part-owner of Indian Premier League cricket franchise Kings XI Punjab, have both been linked with the Championship club.
A Chicago based consortium, known as Peak 6, have also made offers for the club.
Any investor must pass the Football League's owners and directors' test, although Kieran Maguire, a football finance director at Liverpool University, says the test is unlikely to hold up the purchase of the club.
"The test doesn't do much good," he told BBC Sport. "It's more a case of being seen to be doing something by the Football League than actually doing something.
"It's a self-certification test, which is usually filled out by the club secretary, and most tests are passed with ease because of the legal issues with launching an objection.
"Outside parties, such as people who may have personal grudges against individuals, can object and the Football League will then investigate further but otherwise the test should pass through easily."